Incandescent vs Energy Star bulbs
12-29-12, 04:30 AM
Join Date: Dec 2012
Location: US
Posts: 2
Received 0 Votes on 0 Posts
Incandescent vs Energy Star bulbs
---
I'm currently using incandescent bulbs in my home. But given the new regulations, as my bulbs burn out, I'm going to replace them with the more energy efficient bulbs. I printed off a "how much light do I need chart" that compares incandescent watts/light output/energy star bulb watts. So this is my question:
If I currently use two incandescent 60 watt bulbs in a ceiling fixture, then the equivalent bulbs in the energy star would be two 13 to 15 watt bulbs (according to this chart) for equivalent light output. But if my fixture can handle two 60 watt bulbs, for a total watt capacity of 120 watts, then can I use two 40 watt energy star bulbs (equivalent to two 150 watt incandescent bulbs) since the total wattage will be less than the original 60 watt bulbs I started with?

My home is kind of dark inside, and brighter bulbs would be wonderful. But the bottom line for me is safety, and I don't want to create a fire hazard.
Sponsored Links
12-29-12, 07:23 AM
Yes, so long as you don't exceed the specified maximum you are okay. Also you have found another reason to switch, increase your lumen level, which is good for you. You may want to start with a couple to find out what color temperature gives you the best light for your need.
12-29-12, 07:27 AM
Welcome to our forums!
---
Energy Star bulbs do not refer to any particular type of bulb, only that it consumes less energy/lumen than incandescent.
You can't use the energy star rating alone to help select bulbs.
You need to consider the type of fixture and how it is switched.
Many lamps have switches that are dimmers and you need to be careful what bulb you select for those as many either can not be dimmed or take a special dimmer to do so.
Another very important thing to consider is the color of the light given off.
All bulbs have a color rating that is stated in Kelvin or K and you need to look at the actual number, not the opinion many makers put on the package.
Light color can range from about 2800K to 6500K and higher.
Warm white is often in the range of 2800K to 3500K where cool white 4000K and up.
Using "warm white" or "cool white" that is labelled on the package will not tell you what it will look like when you get it home.
You mentioned that you wanted to brighten the place up and a light color that does a good job of being bright without casting a blue/green hue is in the range of 4000K.
Not all lamp makers put the color on the packaging but sometimes you can look at the code stamped on the bulb.
I will not buy a CF bulb if they don't tell me what color the light is.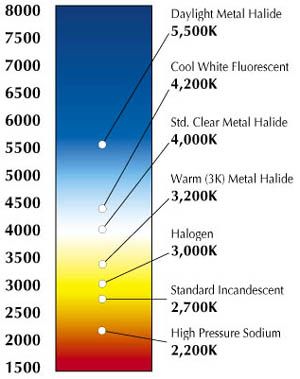 I would assume you are looking at compact fluorescent bulbs.
You mentioned 40 watt bulbs which if compact fluorescent are fairly large and likely would not fit into many fixtures designed for standard incandescent bulbs.
Over-lamping by one size over the recommended size would likely not be a problem but any more could lead to fitting problems and would likely just make for an overbright fixture.
Like I said, the lamp color is just as if not more important than the size.
12-29-12, 07:34 AM
Join Date: Nov 2007
Location: Twin Cities, MN
Posts: 13,022
I agree with Greg 100%. I do not buy any bulb (LED or CFL) without the color listed on the package. Most CFL's I like to use are 2700K which is almost an exact match to incandescent color.
12-29-12, 09:21 AM
There is one little thing I might add.
What can throw off a comparison of bulbs using the color of the lamp is how we see colors under different types of bulbs.
There is a relative number attached to different lamp types on how colors look and that is the color rendering index or CRI.
When you look directly at a lamp you will see the color of it which will be its Kelvin rating and could match the color of the lamp you are replacing.
When you turn around and look at the colors it is illuminating you will see colors differently under different lamp types.
You really need to pick a bulb type and color and try it ti see what you wind up with.
I use some bulbs in the 2-3000 k range but find these types very nice for lower level mood lighting .
4000k works quite well for anywhere you want brighter lighting like kitchens bathrooms and work spaces that is not harsh like the 4800 and up.
An area that you can see light color and cri at work is with a digital camera and its white balance settings.
12-29-12, 12:59 PM
Join Date: Dec 2012
Location: US
Posts: 2
Received 0 Votes on 0 Posts
Thanks to everyone for the quick response. I'm currently using GE Reveal incandescent bulbs which have a cooler light than the soft white bulbs I was using before. After reading all your posts, I did a little research, and GE says their Reveal bulbs have a color temp of 2850 vs a photographer that did a reading and found the color temp to be around 3400. Which, after seeing the chart, I would have thought the Reveal was somewhere in the 4000 to 5000 range.


So keeping in mind that I'm knew to these bulbs, in a ceiling fixture with a glass globe that completely encloses the bulbs, as long as the bulbs fit and the wattage doesn't exceed 120 (the current max)...then I'm good to go. And I don't have to worry about overheating from the bulbs themselves (because I thought I had read that the new bulbs don't give off heat??).

Anyway, thanks again for all the helpful information. You guys rock!!
12-29-12, 02:29 PM
Every light bulb gives off heat in direct proportion to the watts it uses. More efficient bulbs, which produce more lumens per watt, often feel cooler after use than less efficient bulbs, but that's usually because they're pulling fewer watts for the same amount of light. The surface area of the lamp also figures into it. A 40W A-19 standard incandescent lamp is hotter than most of us want to touch when it's just been turned off after being on for as little as 30 minutes. A 40W T-8 fluorescent tube, which draws the same watts and, AFAIK, produces pretty much the same amount of heat, is cool enough to handle as soon as it's turned off, because the heat is spread over a much larger surface area.

If you could somehow cram a couple of CFLs that actually draw 60W into that enclosed ceiling fixture, I'll bet they'd generate about the same amount of heat as the two 60W Reveals you have in there now,

I also love Reveals, and filled our home with them when we first bought it. The reason is their CRI. As I've replaced them with more efficient lamps, the challenge has been to find lamps that have that same property. I urge you to keep an eye on that as you replace yours, as Greg suggested.
12-29-12, 03:10 PM
Join Date: Nov 2007
Location: MI
Posts: 2,614
Received 0 Votes on 0 Posts
I became a fan of CFL bulbs when I replaced the single 60w incandescent in my stained glass dining room light. It has a 60w socket inside a small globe and never put out adequate light. It was a wedding gift so I really couldn't replace it. I installed a 200w equivalent CFL and finally had enough light without extra heat. I did have to replace the globe with a larger one that would accomodate the fat CFL, but that was a win-win as the new globe was much nicer than the original small round globe.
I've also replaced my reading lamp 3-ways with 50-100-150 bulbs and my aging eyes are much happier.
On the downside I have found CFLs dim over their life and they don't last as long as they claim but overall I'm happy. I'd be even happier if they weren't ALL made in China
12-29-12, 05:06 PM
Join Date: Dec 2010
Location: Galivants Ferry SC USA
Posts: 17,953
I have all CFL's. The only issue I found is it takes a few seconds to get to full light output. It took time to get used to also because the equivalent watts is much brighter than an incandescent. Have a whiter light even though it has or states the same kelvins.

Since I changed every bulb in my home my electric bill reduced $300 for the year. I have had them in over a year now.

I had them put in through a state program at no charge. I calculated it to be around $250 bucks for all those bulbs.

Even if I did put out the money myself it paid for itself in one year.

I am very happy and will never own a incandescent light again.....
Posting Rules
You may not post new threads
You may not post replies
You may not post attachments
You may not edit your posts
---
HTML code is Off
---