Porch Light Install Trouble - Siding In the Way
06-08-13, 11:02 AM
Porch Light Install Trouble - Siding In the Way
---
Hello everyone,
My wife and I just moved into our first home and we're just starting to making improvements to it. One small project I have moved to is replacing the porch light. When I took off the original light, I was surprised to see that that mounting electrical box behind it is actually behind and somewhat underneath the vinyl siding. This creates two problems: screwing in the new mounting plate is going to be extremely difficult because I will have to do it at an angle just to get it into the electrical box behind the vinyl (I was able to get the original screw for the original plate out). The second problem is that the way the siding is designed, the footprint of the back of the light will not be flush with the siding. Also because of the design of the vinyl, once I
do
get the mounting plate on, I don't think the mounting screws that come off of it and the light screws onto will reach the back of the light.
It seems like my only option is to cut the vinyl. This would allow me easier access to the electrical box and allow it to be more flush with the siding itself. is this a good idea?
Thanks for your help!
Reference pictures: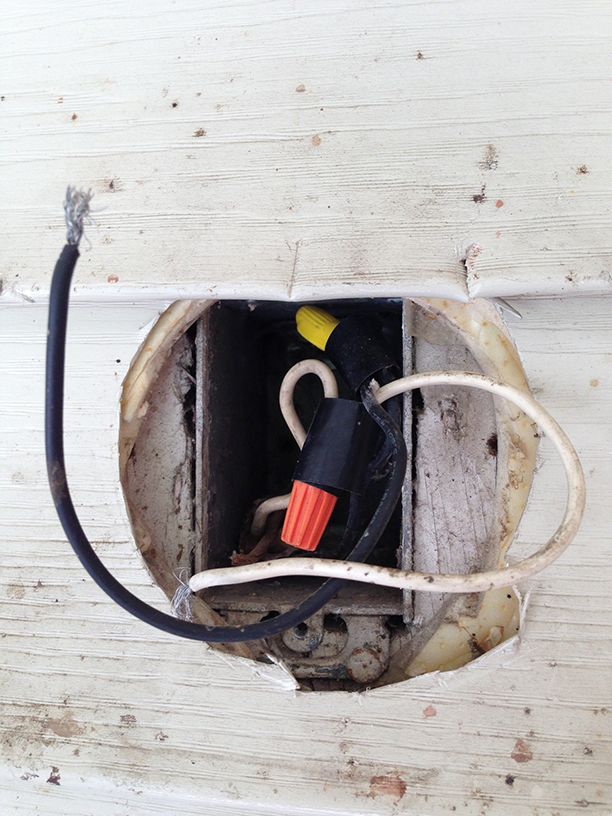 Sponsored Links
06-08-13, 11:58 AM
Welcome to the forums. I have moved your post to the more appropriate forum, Electrical-Lighting and light fixtures.
You missed the main problem, the wrong type of electrical box*. You need a siding mounting block with a built in round electric box.
*The box you have is for receptacles not lights.
Here is one type. You can find others at places like Home Depot and Lowes.
http://www.youtube.com/watch?v=FcxWA9cLrKE
06-08-13, 12:02 PM
Thanks for the move.

I was afraid of that...

Now, the mounting bracket that came with the new light does screw into that recepticle. I understand that is isn't the best way to do it...but considering that there is some type of wood that Is surrounding the receptacle, it would be very difficult to remove this receptacle and replace it with the correct one.
06-08-13, 02:23 PM
This is common when an existing building is retrofitted with vinyl siding. The siding appliers are NOT electricians and they do some strange things to get the electrical through the vinyl. Most of what they do is not code-compliant and some of it is just plain bad.
---
Last edited by Furd; 06-08-13 at

03:32 PM

. Reason: Correct misspelling
06-08-13, 03:12 PM
Banned. Rule And/Or Policy Violation
Join Date: Apr 2013
Location: USA
Posts: 4,297
Received 0 Votes on 0 Posts
Not even close to being installed right.
There is no need for a round siding block.
Use one of these mounted horizontal to make it easy on yourself.
Looks like someone beat your siding with a hammer for some reason.
06-08-13, 04:46 PM
I Figured that the easiest way to do it would be to cut small slits in the siding so that amounts flossed to it and it doesn't require me to cut a large hole to make it fit. Plus, I could also use the existing housing that was in there without having to replace it.
06-08-13, 05:24 PM
The junction box that is there is a receptacle box that uses 6-32 machine screws for mounting devices. Best to use a round or octagon box that uses 8-32 screws. Use a Sawzall or a Sawzall blade hand held to cut the nails holding the box. (Wrap the tang end with duct tape to make a handle.) Then enlarge the hole using a jig saw.
06-10-13, 06:35 AM
Banned. Rule And/Or Policy Violation
Join Date: Apr 2013
Location: USA
Posts: 4,297
Received 0 Votes on 0 Posts
06-10-13, 07:04 AM
A good find joecaption1 but that is for a receptacle box and the fact remains mounting a light to a receptacle box is tricky. One way is to not use the mounting plate that comes with the fixture and screw it directly to the wall.
06-10-13, 08:26 AM
Thanks for the suggestions and help. As the picture shows from a couple of days ago, I was able to mount it in the existing receptacle by cutting slits into the siding.
Posting Rules
You may not post new threads
You may not post replies
You may not post attachments
You may not edit your posts
---
HTML code is Off
---