bathroom light fixture help
04-15-14, 11:34 AM
Join Date: Jun 2013
Posts: 17
Received 0 Votes on 0 Posts
bathroom light fixture help
---
I want to change my bathroom light fixture, and when I took off the front of the old fixture, it has these electrical nipples I guess, and I am not sure if they have to be there or if I can remove them. The new fixture we bought mounts closer to the wall and I don't think I will be able to install the new fixture with the nipples there.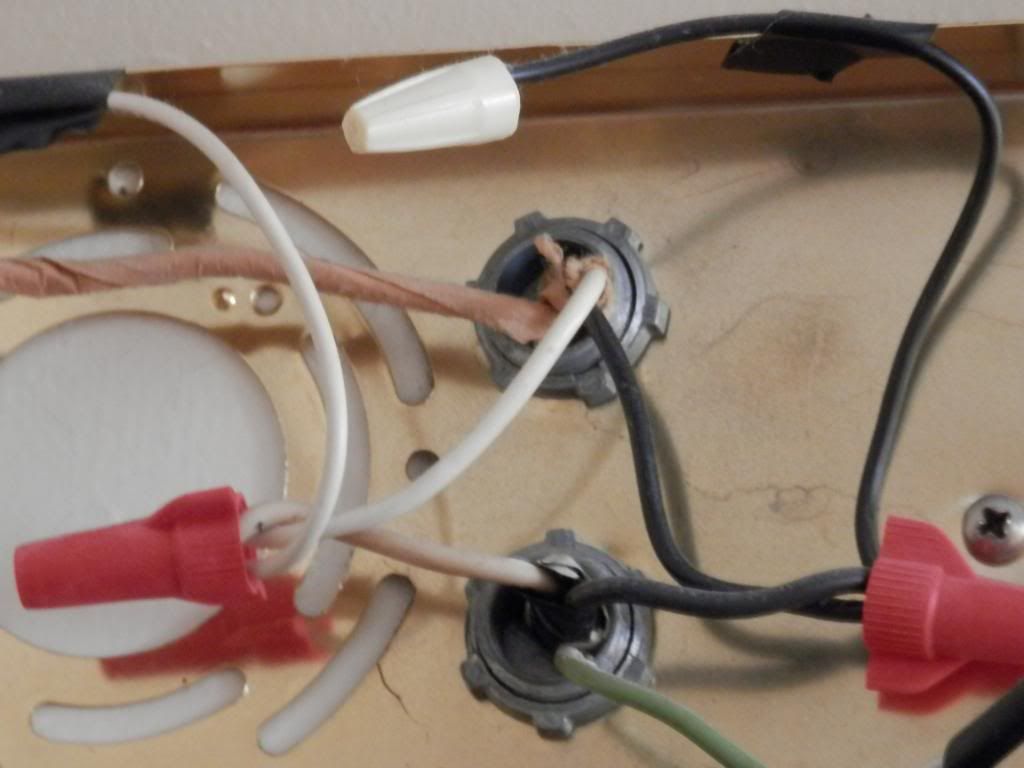 Sponsored Links
04-15-14, 04:06 PM
Join Date: Jul 2008
Location: NY
Posts: 10,986
Received 0 Votes on 0 Posts
They look like connectors. Make sure that the power is off. Disconnect the wires, loosen the nuts & remove the fixture.
04-15-14, 05:55 PM
Join Date: Oct 2012
Location: Northern NJ - USA
Posts: 54,679
In your picture they are using the fixture as a splice point. With many of those strip fixtures the fixture itself was rated as a junction box for a single wire.... not two. You can remove those two connectors from the fixture and the cables but you will need to cut a gem box into the wall as a new splice point.
If it's MC (metal clad) cable then you'll need to use a metal box. If the wire is type NM (non metallic like romex) then you can use a plastic box.
04-16-14, 11:00 AM
Join Date: Jun 2013
Posts: 17
Received 0 Votes on 0 Posts
thanks for the replys. I think I am going to just call someone so I know its done right. Thanks for the help.
Posting Rules
You may not post new threads
You may not post replies
You may not post attachments
You may not edit your posts
---
HTML code is Off
---