Wiring backyard lights - guidance and suggestions
09-08-18, 12:27 PM
Join Date: Sep 2018
Location: USA
Posts: 16
Received 0 Votes on 0 Posts
Wiring backyard lights - guidance and suggestions
---
Howdy,
This is my first post here so I hope I'm at the right place
I have a decent yard size (for the region I live) but it is too dark at night.
As you can see in the pictures, the builders just left one light fixture which is definitely not enough (unless I have something super bright in there).
I'm looking for options to make it a little brighter.
The only thing I can think of is to add one or two additional light fixtures (see pictures) but if someone has some different ideas I would be happy to hear.
As for what I'm currently planning, it seems a bit straightforward.
I'm comfortable around electricity (I won't electrocute myself for sure), and with a background on electronic engineering, heavy industrial machinery and high voltage projects, I think I can handle this.
My main concern here is code. I can put together something that is 100% safe but still not up to code.
When it comes to code you may find a rule that says "wire should not go under a window", even though there is not apparently reason for that and you could safely do so but... it is the code (just a made up example).
So unless someone has a better idea on how to light up my yard, I'd like to know if someone can help me with this. If the wiring I'm planning (see picture) is ok.
Basically I would cut the drywall and pass the wire as shown.
The is CBS construction so wires will be between drywall and concrete blocks.
Then I can drill through the concrete block and take wire outside to a junction box.
I live in South Florida but I believe Florida uses national codes.
It comes down to the questions (when it comes to code):
Can it be done as described (wire's path, distance between windows and floor) and if yes?
What kind of wire should I use?
Do I need conduits behind the drywall?
Is there an specific junction box to install on the outside?
Any other rules I should be concerned about?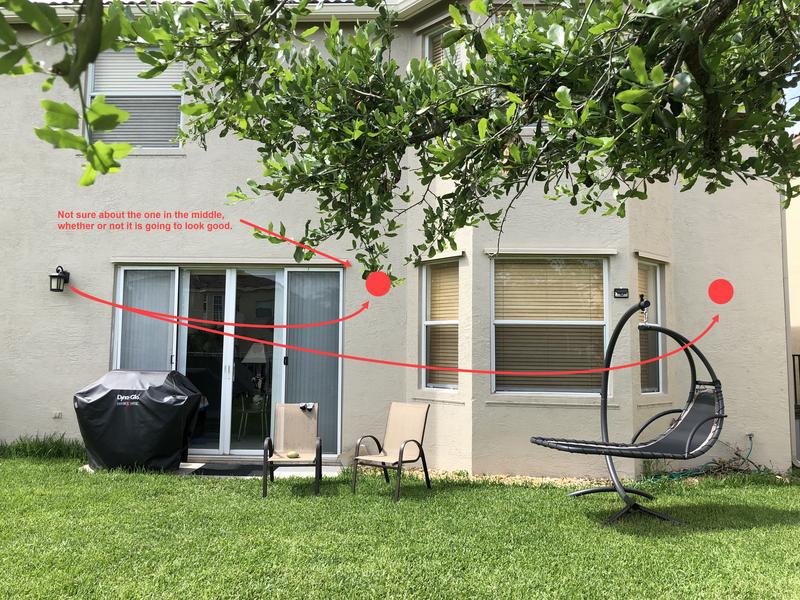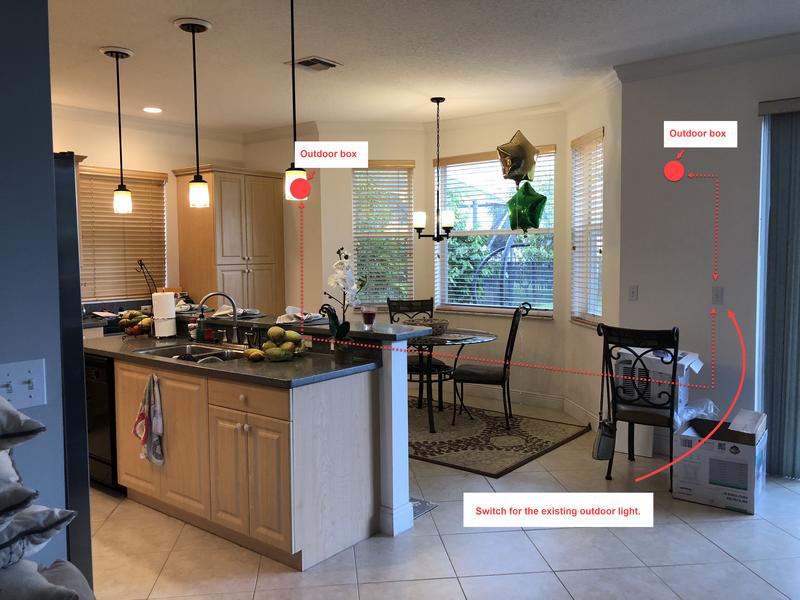 Thanks in advance.
Sponsored Links
09-08-18, 08:10 PM
Join Date: Oct 2012
Location: Northern NJ - USA
Posts: 52,689
Welcome to the forums...... you are definitely in the right place.
What you install depends on what you need light for. If it's just for general lighting and ambiance.... then your locations are fine. However, those locations can be annoying if you are trying to entertain as the lighting is too close to eye level. Another problem is how will you get wire between them to switch them ? As far as I can see..... your walls will not allow horizontal wiring runs thru them.
What I've done for a few customers is to mount fixtures up near the soffits. You can then wire thru the soffits. I've used dual floodlight holders but now are using more LED fixtures. With the right combination of fixtures you can use wifi type switches/dimmers to control them remotely. That would mean you would only need a live circuit to get power from in the attic.
09-09-18, 10:07 AM
Join Date: Sep 2018
Location: USA
Posts: 16
Received 0 Votes on 0 Posts
Thanks, you brought up some good points.
Initially a thought I could wire it as shown in the picture and use the existing switch to control the 3 lights all together. However after your post I made a small hole in the drywall to check it out.

Drywall is attached the concrete blocks through these metal bars and I believe you are right, I won't be able to run a horizontal wire through it.

I think the soffits are too high, have too double check on what is involved here.

Since you mentioned wireless switches and only needing live circuit, what about somewhere close to the second floor windows? I could drill through an existing outlet on that wall and have the fixture on the outside, right behind it.

I would have to check the where the outlets are located to make sure it won't look weird on the outside but assuming it won't, it is that ok (code wise)?

Thanks again.
09-09-18, 12:16 PM
Join Date: Oct 2012
Location: Northern NJ - USA
Posts: 52,689
You more than likely have hat or furring channel in your walls. That allows for vertical travel but no horizontal travel.
Yes..... locating the lights lower is an acceptable alternative.
Just keep in mnd..... the higher the better.
Posting Rules
You may not post new threads
You may not post replies
You may not post attachments
You may not edit your posts
---
HTML code is Off
---