Complicated 3 way switch wiring
12-15-19, 01:18 PM
Join Date: Dec 2019
Posts: 3
Received 0 Votes on 0 Posts
Complicated 3 way switch wiring
---
This is my first time posting. Hopefully my photos uploaded correctly. I currently have 3 light fixtures in my kitchen. Kitchen light 1 and soffit light 1 are controlled by switch 1. Kitchen light 2 is controlled by switch 2. The switches are on opposite ends of the kitchen with the lights in the middle of the kitchen. My goal is to tie all 3 lights together and make the switches 3 way switches. Unfortunately my house was built in 1957 and the wiring is much more complicated than any diagrams I could find online. I spent some time tracing my wiring and drew a diagram of how it's currently wired. I feel about 86% confident that I have this diagram drawn correctly.
From what I can tell, it looks like I'm going to have to pull 12/3 from switch 1 to light 1, an extra 12/2 wire from kitchen light 1 to soffit light 1, two 12/2 wires from soffit light 1 to kitchen light 2, and then maybe another 12/2 from kitchen light 2 to the big switch box (for the constant power). I just want to make sure I get this right. Can anyone help?
---
Last edited by PJmax; 12-15-19 at

02:29 PM

. Reason: imported/resized pictures from photobucket
Sponsored Links
12-15-19, 02:36 PM
Join Date: Oct 2012
Location: Northern NJ - USA
Posts: 54,143
You had three links. Two were identical. You cannot use photobucket as they no longer allow third party linking. That means your pictures stored there cannot always be seen here.

If your house was built that long ago it should have been wired in #14. Keep it that way.
Don't complicate matters by using #12 wiring. Match what is there.

You're going to require several cables. Right now you are showing the back porch lights as coming off the kitchen circuit.

The easiest way would be to run a three wire cable between the two switches.
12-15-19, 03:21 PM
Join Date: Dec 2019
Posts: 3
Received 0 Votes on 0 Posts
Thank you for fixing my pictures, I didn't know that about photobucket. Is there a better way to get a url for my pictures? I'm pretty sure it's all #12 wire in my house because it looks like #12 and there are also several garage outlets on the same circuit as these lights. I know outlets and lights shouldn't really be on the same circuit but that's how it was originally wired and outlets need #12 right? The back porch light has it's own switch (not in the picture) but that switch has a 12/2 wire that runs up and meets the pictured wire in a junction box in the attic. I think I found a diagram (below) describing what you're saying about running a 3 wire cable between the kitchen switches. I just have to figure out exactly how to do that in my situation. I'll try to draw a new diagram and see if it makes sense.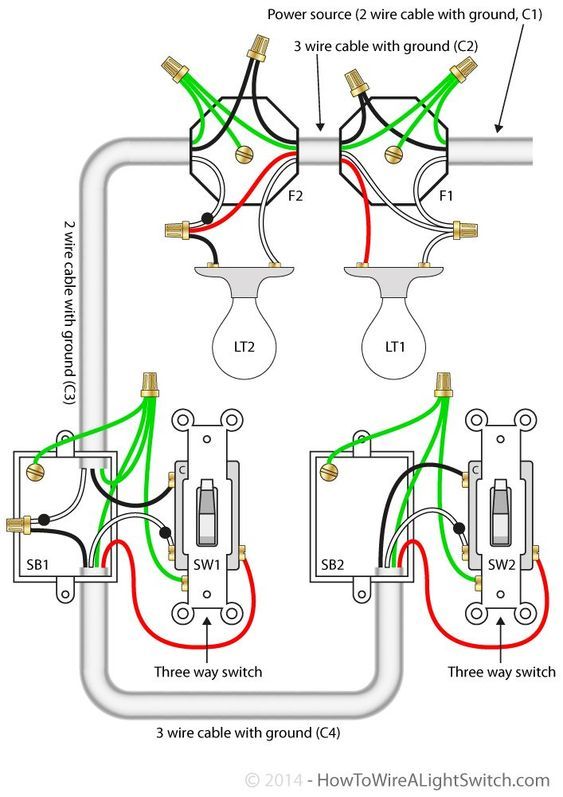 12-15-19, 06:08 PM
Join Date: Dec 2019
Posts: 3
Received 0 Votes on 0 Posts
Thank you! I think your drawing makes sense to me (other than that extra white wire going down to the garage switch).
Do I need to tie the 2 ground wires together in switch box 1 and hook them both up to the switch?
And in switch box 2 do I hook the ground wire from the new 12/3 up to the switch and tie the ground wire that's currently hooked to that switch to the other ground wires in that box?
And then just tie all the ground wires together in all the light fixture boxes?
Posting Rules
You may not post new threads
You may not post replies
You may not post attachments
You may not edit your posts
---
HTML code is Off
---