Pot light replacement
03-28-20, 08:54 AM
Pot light replacement
---
Hello everyone, i hope you're all safe and sane during this bizarre time.
I hate these old pots and would like to upgrade to led. I've never done inset lighting before so just want to make sure i get the right replacement size. Taking a look it appears that sizes start at 4". The hole in the ceiling is under 4" and the finished installed size exceeds 4". I'm looking for drop in replacements, I'm not interested in changing the opening size.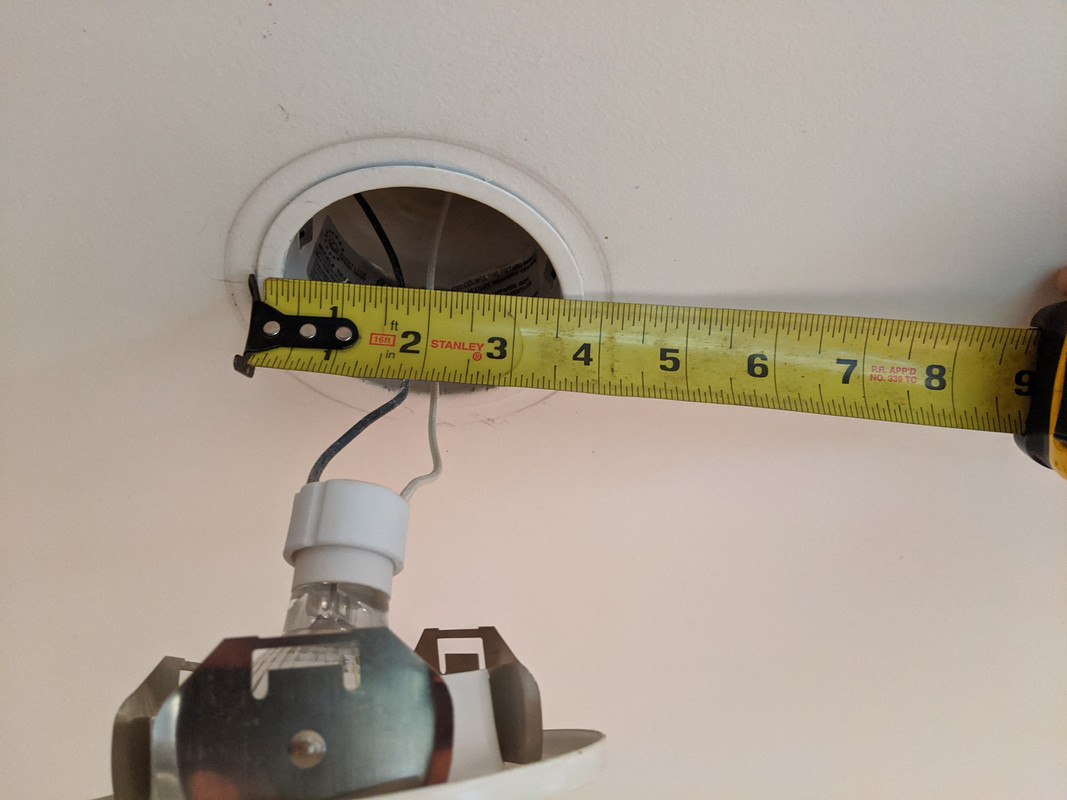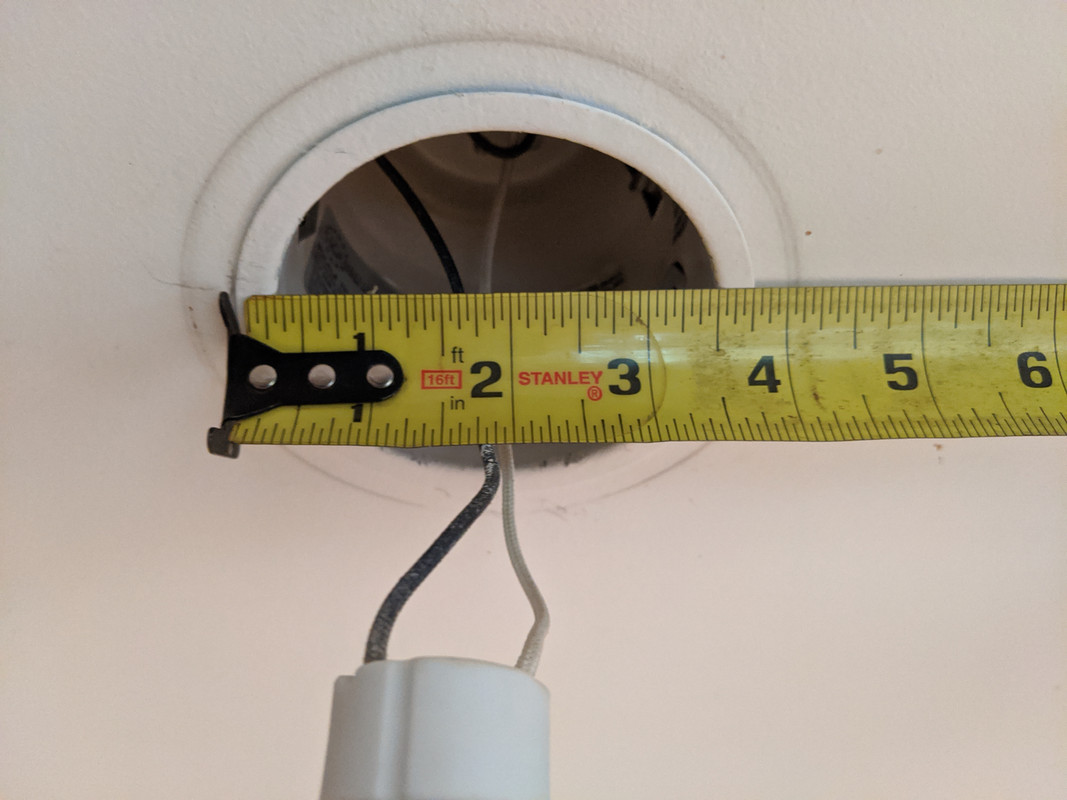 What size am i shopping for?
Thanks,
Sponsored Links
03-28-20, 10:08 AM
That is a 4" fixture and the hole in the sheetrock will be just slightly larger than 4".
By "drop-in" do you mean retrofit ? Something that will go into the can ?
Halo makes a retrofit LED that may work in the can.
Otherwise the can is removed and a new fixture installed in the same hole.
I've recently installed a pile of the Chicago Electric lights in a customers home.
Easy to install and have a three position for selecting color temperature.
I've also used the new Halo series. Halo is one of the better name brands in lighting.
I've left a link below to the Halo fixture and for some reason the depot is showing it at half price.
Halo
Commercial electric
03-28-20, 12:03 PM
But if you look at the first 2 pictures, the hole in the sheet is clearly smaller than 4", which is my confusion. I want to take these entire cans out and replace the entire fixture, I just meant i didn't want to have to cut the holes bigger. The hole is closer in measurement to the inside diameter of that can, likely under 3.5"
03-28-20, 12:16 PM
Ok, I'll have to look closer because when i check home Depot the options start at 4". I am Canadian and when i click your link and am redirected to the Canadian site i do not get a direct match for the product you are trying to show, but home depot Canada does carry halo products so we likely have the same item just under different sku/packaging.

I'm actually very cool with leaving these cans in and retroing them as long as they worked well and looked good. That actually sound like less mess and work. I have a 9-pot grid in 2 rooms i would like to replace (18 pots) so I'm open to suggestion.
03-28-20, 12:22 PM
I went to the Depot and searched for 3" LED recessed fixtures and got many hits. It doesn't mean they're stocked as I don't remember seeing anything under 4" either.
I can't really make a recommendation on a 3"retrofit kit.
You would probably need to get several types to determine which one fit the old can.
3" LED fixtures
03-28-20, 12:26 PM
I believe this is the same product: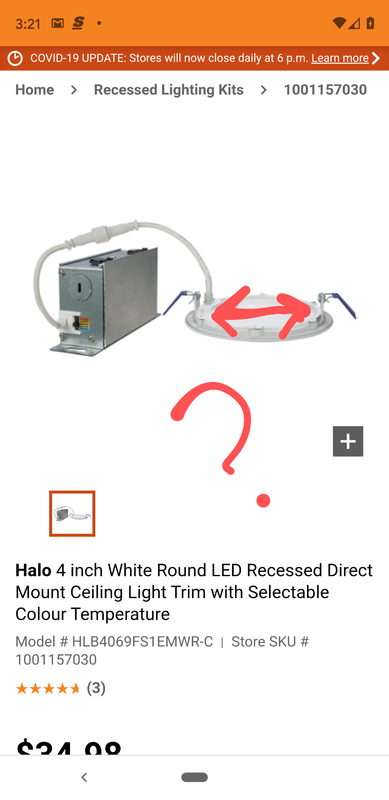 For my market. The space i am showing here, is this the minimum diameter it fits into? The specs on the product page don't say, or describe that distance but it looks like that is the max and the clips are spring loaded and fold inward?
In your opinion this is a good product, and they are held in place nice and firm/flush? The appearance/design is what I'm looking for so if I find ones I know will fit I'm good.
03-28-20, 08:34 PM
4" fixtures like that usually recommend a 4-1/8" hole (at least the brands I've used). That style of light will require the old can to be removed anyway, so it shouldn't be a huge deal to make the holes a bit larger with a drywall saw if needed.

I use that style exclusively now for new installations. I've never used the Halo brand of that version specifically, but I would have no issue buying them.
03-29-20, 09:59 AM
As i sit here and pull what's left of my hair out trying to sort out what i actually need I've come to a minor revelation. I have a 9-pot grid in 2 rooms I'm looking to update and despite looking identical i see now they are different. I can retro the cans in the kitchen because they are made for gu10 bulbs and use normal voltage. In the front room the cans use gu5.5 bulbs, which just have the little stick pins in the back. They haven't been made in probably 10 years, and they are low voltage. So i assume there will either be a base transformer that feeds all of the cans, or each can will have its own transformer: I see both were available and used around the time this would have been set up.
some of the lights work and some don't so I will assume with hope that each can has its own transformer and will have 14 wore going to it. Otherwise I'll have to get up into the ceiling and forget that.
Posting Rules
You may not post new threads
You may not post replies
You may not post attachments
You may not edit your posts
---
HTML code is Off
---