Ballast replacement help needed
03-18-22, 07:08 AM
Ballast replacement help needed
---
I'm replacing the ballast on a 4-bulb fluorescent fixture and would appreciate some help in selecting the proper ballast. The current ballast is an Accupro 120-277V model AP-432i-UNV instant-start. The fixture has four 4' T8 32-watt bulbs, not led. The ballast has 2 red, 2 blue, 2 yellow wires on one side and black and white on the other. It is approx. 9" long.

Please let me know what features I should look for in selecting a ballast. Is it all of the above or is there something more or less I should be concerned about.

Thanks.

03-18-22, 09:39 AM
Join Date: Mar 2003
Location: NC, USA
Posts: 27,091
I stopped replacing ballasts years ago. I convert the fixtures to use line powered LED replacement tubes. You disconnect or remove the ballast and rewire the fixture according to the LED bulb's directions. It is incredibly simple and easy to do. This dramatically cuts power consumption and the need for a expensive ballast.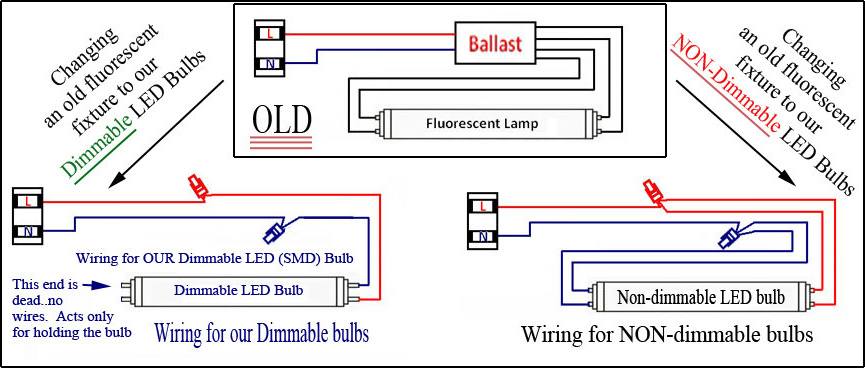 03-18-22, 01:22 PM
Pilot Dane, I'm pretty good at some things but haven't done much with electricity (as you can tell from my question) because I'm reluctant to burn the house down but I'm going to give this a try. I have a 4-bulb non-dimmable fixture. Is it just a matter of combining the wires at each end and attaching one side to black and the other to white or is it only some of the wires. Or, do I convert the fixture to a single bulb unit. At present, the fixture has 4 bulbs but it's only a 7X10 laundry room so we only use 2 bulbs on one side of the fixture which gives us plenty of light.
03-18-22, 01:44 PM
Two more questions. First, do I have to replace the tombstone? I've seen videos with and without replacing it. Second, what led bulb will I need. I saw a good (IMO) video that recommended a hybrid type A+B, 18W, plug & play or ballast bypass, single or double ended connection. Does that make sense?
03-18-22, 01:47 PM
Join Date: Oct 2012
Location: Jersey
Posts: 63,883
Tony.... pick the tubes first. You want the NO ballast type.
They come in two styles..... the 120v power at one end on the two pins OR 120v power on each end.
The tubes you get will come with a wiring diagram.
You shouldn't need to change the ends. Many LED tubes come with sockets.

Once you've chosen the tubes we can help further. The wiring is very straightforward.