I'm selling my 1986 Honda Shadow VT 500 motorcycle
12-19-10, 05:47 PM
Join Date: May 2007
Location: Colorado
Posts: 203
I'm selling my 1986 Honda Shadow VT 500 motorcycle
---
I LOVE the bike and hate to do it, but need to.
It has 26,374 miles on the odometer. I bought it totally rebuilt and it's a great bike. Never have dropped it or had any problems with it starting right up.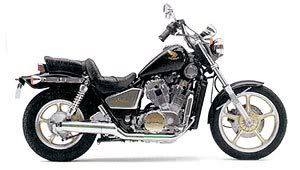 Where is the best place to post it for sale? Many say Craigslist or Ebay.....?? But, I notice that not too many of them are selling.
Any suggestions?
Thank you!
Sponsored Links
12-19-10, 05:57 PM
A 14 y/o MC even in great shape is not going to bring much. If gas prices were from 2 yrs ago...maybe...but not now. Craigslist and expect a lot of low ball offers.
12-19-10, 06:06 PM
Join Date: May 2007
Location: Colorado
Posts: 203
What's a good price range to start with? and then, possibly barter down from there.
12-20-10, 08:12 AM
Sorry, no idea. Might want to browse Craigs or Ebay and see what they are going for.
Posting Rules
You may not post new threads
You may not post replies
You may not post attachments
You may not edit your posts
---
HTML code is Off
---