Oven thermostat in a smoker
01-26-11, 02:56 PM
Join Date: Jan 2011
Location: Canada
Posts: 4
Oven thermostat in a smoker
---
I'm building a homemade smoker and, as we all know, temperature is very important when it comes to smoking food, so I wanted to wire an oven thermostat up to it to control the temperature for me. I was looking at buying this one;
Partselect.com - Parts And All Brands of Appliance Parts
What I was going to do was to wire the thermostat into the circuit of the hotplate. I made sure to find a thermostat that required a knob, ie. didn't plug into a circuit board. Is it really just a matter of wiring a thermostat into the circuit, or is there some factor that I am overlooking. Thanks,
Sponsored Links
01-26-11, 03:13 PM
Welcome to our forums!
---
An oven thermostat might not be your best choice.
For optimum smoking temps you will want to be around 160 degF which is on the lower scale of what that control will do.
If you want to make sausage and smoke it you will be drying the sausage at around 125 degF before smoking which that control can't do.
The oven thermostat would be ok for slow smoke/cooking tough meats like brisket which is normally done around 225 degF.

It's a bit tricky using a thermostat controlled hot plate because you need to have enough heat from the hot plate to get the wood to smolder.
There is a fairly steep learning curve in making any smoker work well. and you might find that you would turn the heat up on the thermostat to get the wood going and control the temp with dampers.

Do you have adjustable dampers?
01-26-11, 07:49 PM
Join Date: Jan 2011
Location: Canada
Posts: 4
What are dampers? I'm fairly new to this (if you couldn't tell). Thanks,
01-27-11, 03:47 AM
There are a few different ways of building a smoker and if you tell us exactly what you are building it would be helpful.
Or better still, post a picture on a free site like Photo Bucket if you have started it and provide a link.
All smokers have a way for smoke to escape the smoking chamber.
The simplest just have a few holes at the bottom and top so some air can flow through.
The idea being that if the smoke is in the chamber too long he food can get bitter.
Better smokers have dampers on the air inlet opening which is at the bottom and exhaust opening at the top to help control both smoke concentration and chamber temperature.
This is my fist smoker.
It is an electrified charcoal Brinkman.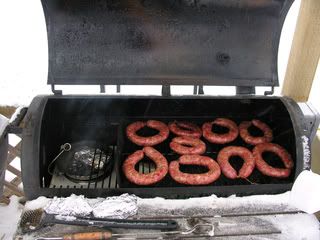 You can't see it but on the left side at the bottom there is an opening and a round plate that rotates to let more or less air in then at the top on the right behind the door you can just barely see a pipe that rises from the chamber for the smoke to leave.
The hot plate is on the left on this one and is powered all the time.
What you can't see is a water heater element under the rh side covered with a baffle and a thermostat in that grey box on the rh side.
This one actually worked quite well but the grill surface was a little small.
I was going to build a smoke chamber and attach it to the left side but decided to start over on a new one.
There are many ways to build a smoker and if you wanted to keep it simple just provide an opening at the top and bottom for some air flow.
The biggest thing is it is not just about the smoker, whatever you build you will have to experiment to get the most out of it.
Edit:
I used a thermostat for a commercial warming oven and you can get controls dedicated to smoke cooking but actually you likely could get an oven control to work.
If you add two openings to your smoker with some kind of damper you could set the air flow to allow the temperature to stay roughly where you want and have the oven stat set at its minimum setting.
---
Last edited by GregH; 01-27-11 at

04:31 AM

.
01-28-11, 05:31 AM
Join Date: Jan 2011
Location: Canada
Posts: 4
My smoker is much less sophisticated than yours. It is just a garbage can in which I have four layers of grills. It was originally designed as a charcoal one (I even built a smoke chamber out of a terra cotta pot), but with charcoal the temperature was impossible to control and after a particularly disastrous batch of beef jerky, I gave up and decided to switch to electric.

When it was charcoal driven, I had a hole at the bottom to control the air, but as controlling the temperature was difficult enough as it was, I didn't put any in the top.

I just have one last question; since my garbage can smoker is not insulated, heat dispersion is not a problem. Plenty of heat is radiated just off the metal. With charcoal keeping a constant heat was the biggest problem, but by the end I was starting to get the hang of using the blow end of a dust buster to stoke the embers. In short, as a combustion reaction, airflow is directly proportional to heat transfer. With electric there is no combustion reaction (or at least it isn't the source of heat). So my question is by what mechanism does the two air input (at the bottom) and output (at the top) control the heat, either for a charcoal or electric smoker. Thanks for all your help!
02-06-11, 08:03 AM
The dampers will not totally control the temperature but more so allow you to tweak it.
One way some smokers generate smoke is with wood chips or sawdust on a frying pan type of container on a hotplate.
The dampers will allow you to keep the hotplate plugged in continuously to heat the chamber and to allow the wood to smolder.
You would then regulate the dampers to maintain a specific temperature.
But, I am not entirely clear on how you plan to generate smoke.
You need firstly a combustion source to start the smoke process.
Then, if this combustion source is not enough to heat the chamber to a constant 160 degF you will need an auxiliary heat source which could be temperature controlled.
As I said, a common way is with a hot plate to get the wood going but if you connect this to a thermostat it could cut out on temperature before the wood was smoldering.
If you use a hot plate you could use a damper to get air flowing through the chamber to control temperature.
Also, in some circles it is an accepted fact that you do not want to allow the smoke to stay in the chamber too long as it tends to get bitter.
If your smoker is fairly airtight and the smoke is not allowed to exit your smoke taste could be a bit harsh.
I have muddled with smokers for quite a long time and it seems building and messing with them is as much a hobby as smoking food is.
Really, there is no wrong or right way to build them because no matter what you come up with you will somehow make it smoke food and do it well.
I happen to be pretty lazy so my goal is to make my current smoker as automated and easy to use as possible.
02-06-11, 03:12 PM
Join Date: Jan 2011
Location: Canada
Posts: 4
The heat source that I plan to use is from an electric hotplate on which I will put a steel bowl with wood chips in it. There won't be enough heat from the combustion to heat the chamber, but rather it will be the hotplate that will provide the bulk of the heat. I've got three computer fans that I hooked up to a 12v DC adapter that are on the lid of my smoker that will circulate the air, similar to how a convection oven works. The thermostat will go roughly on the same latitude as the food. However,

I just learned that my landlord is replacing my hot water heater. Alexander is getting ideas...

To be continued on that though. Thanks for your help,
11-29-12, 06:47 PM
Join Date: Nov 2012
Location: United States
Posts: 1
I converted a commercial refrigerator into a smoker. A hot plate supply's sufficient heat and smoke. Wht thermostat should I use to control the temp
11-29-12, 08:28 PM
Welcome to our forums!
---
You likely won't need a thermostat for a small hotplate in a large cooler.

You will need openings at the bottom and top of the chamber for air to enter and leave the smoker.
If you put dampers on these you can control the temperature by opening them for the right draft.
It is likely that you will not have to worry about getting too high a temperature in a large cooler with a small heater.

If you read through all the posts in this thread there are ideas about thermostats.
Posting Rules
You may not post new threads
You may not post replies
You may not post attachments
You may not edit your posts
---
HTML code is Off
---