Infrared grills
07-02-13, 08:51 AM
Infrared grills
---
Hey guys,
So my old tiny grill is pretty much dead and gone, since I bought a house last year, I had been wanting to buy a new grill.
My in-laws are in town and my parents are coming up as well, and my dad and father in law want to grill on the 4th
SO I have been casually looking at grills at Lowes/Home Depot and Sears
I have been really interested in the infrared grills
Anybody have any experience with the Char-Broil Tru Infrared grills?
I was reading that the infrared is amazing for steaks and some beef, but doesnt grill chicken/fish well and wont cook burgers all the way through because its too hot
I was looking at this grill specifically:
Char-Broil TRU-Infrared 3-Burner Gourmet T-36D
I was looking at the floor model yesterday and it seems like you would be able to pull out the infrared grates and cook like it was a standard propane grill
Any ideas?
07-02-13, 10:23 AM
Since you asked, I'm going to recommend you stay away from Char-Broil.
IMO, the infrared is kind of like cooking on one of those indoor electric grills, but maybe someone that likes them, will give you their opinion.
07-02-13, 10:50 AM
I had a Charbroil that I was quite happy with. Served well for about 13-14 years back in VA...gave it to a neighbor when I moved. It was an upper end model at the time.

That said...I have a Vermont Castings now that I am very happy with, though it's not infrared.

Pretty sure I have a CR issue around here that was talking about grilles. As I remember, they weren't all that keen on the infrared they reviewed.

Personally, I like grease, smoke and flames when I'm cooking on the grill. Isn't that one of the things the infrared cuts down on? I may be wrong.

Hmmm...guess I am. Seems they just heat the ceramic plate with a conventional burner which gives more even heat and a wider temp range for slow cooking ribs or searing steaks. Grease and such just drips on the plate instead of the burners. Guess this is a natural progression from the ceramic bricketts which were supposed to do the same thing?

Of course anyone who still uses charcoal is going to call you a blasphemer...lol.
07-23-13, 06:44 AM
Well thanks for the input, I went to the local stores to check out the one that I had been leaning toward and you know what I found?
cheap sheetmetal EVERYWHERE, and the "stainless steel"? it was cheapo magnetic 400 series that will rust
The part that was the deal breaker for me was that the firebox and lids on all the char-broil grills were so thin and cheap feeling that I know it would have lasted maybe 1-2 years
So I started reading reviews, and I ended up buying a 3 burner Weber, it was twice as much, but really liked the materials and the quality.
The firebox and lid are made from cast aluminum, the cooking grates are cast iron (not coated like the charbroil ones which seem to have a reputation for cracking and leaving ceramic coating everywhere) and the stainless steel on this one is 300 series and not magnetic, so it will take a lot to rust.
I have cooked on it twice since buying it and the heat is very even and it can get very hot, it actually broke my grill thermometer (goes up to 650)
so? lets eat! haha
Ribeyes and stuff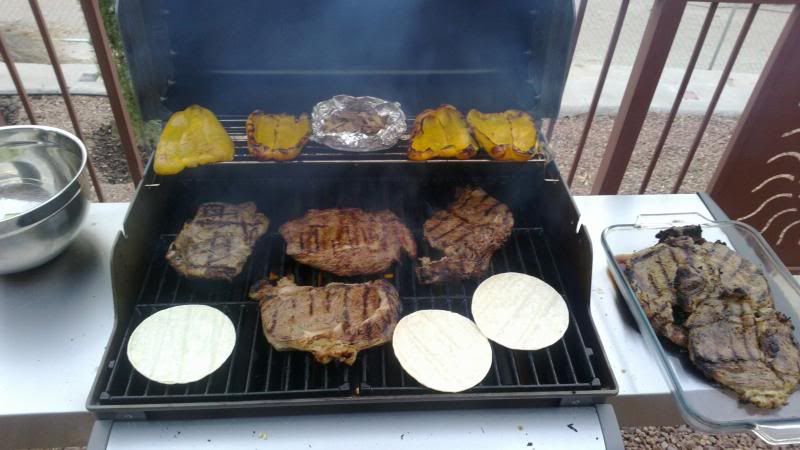 Grilled onions and Ribeye for me, Ahi Tuna for the wife
07-29-13, 04:09 PM
The IR grills
---
Nothing lasts as long as cast iron when it is touched or even near a flame. SS does not hold up as well as people might think near a flame. It has to be away from the flame.
Sid