Generic ignition schematic for riding mower with magneto
05-03-05, 03:31 PM
Generic ignition schematic for riding mower with magneto
---
I need a generic ignition schematic for riding mower with magneto. I burnt up ignition switch and surrounding wires, I could quickly rewire if I had a basic schematic.

Thanks
Sponsored Links
05-04-05, 12:29 AM
The wiring of the switch varies greatly among various tractors, makes, and models. There are also many many different switches, although most LOOK the same. So, I think you'll need a specific wiring schematic instead of a generic.

In general, most switches have letters on or near the base of each terminal. B stands for battery positive
M stands for the kill wire (magneto)
L stands for lights
S stands for solenoid
G stands for ground

You may be able to form your own wiring diagram from this info.
05-04-05, 06:45 AM
Thanks you for your reply, I was thinling of doing away with the factory ignition switch and going with a straight toggle switch for powere and a push switch for srarter power. This should be a fairly generic setup

Thanks
05-02-08, 05:05 PM
Join Date: May 2008
Posts: 1
05-02-08, 05:42 PM
I think this may be what your looking for, If you don't run the gauge just bypass it from the system;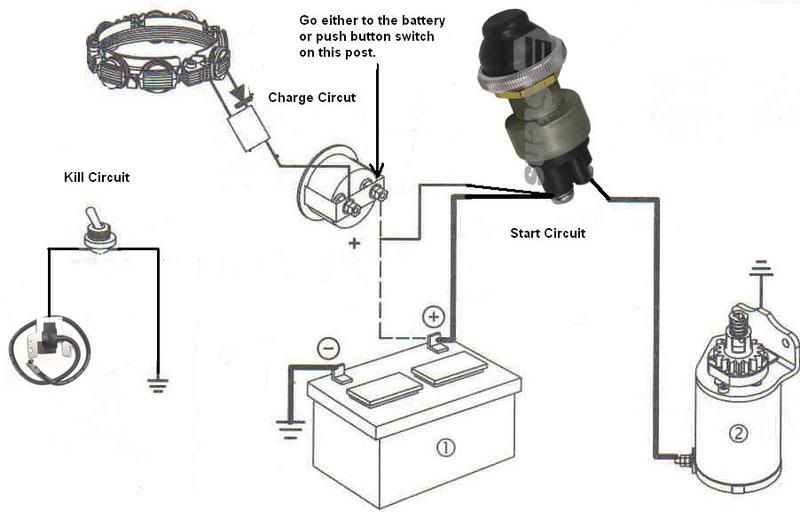 The charging system above is a Briggs non-regulated and the wire is hooked to the lead with the diode at the plug connector, If you have another brand engine the charging system hook-up will vary. The ignition will vary if you have a fuel cut-off solenoid on the carb as well.
Good Luck
07-03-11, 06:18 PM
Join Date: Jul 2011
Location: usa
Posts: 1
To Cheese
---
Thanks for the explanation of an ignition switch..I was going nuts trying to get an older mower running with the switch ( I had been jump starting it ) If you're ever up Illinois way..beers on me..LOL
Posting Rules
You may not post new threads
You may not post replies
You may not post attachments
You may not edit your posts
---
HTML code is Off
---