tecumseh 6hp carb
07-08-06, 03:52 PM
Join Date: Jul 2006
Posts: 4
tecumseh 6hp carb
---
Need some help guys. I have a Huskee push mower with a tecumseh 6.0 hp motor and I need a picture of how the carb goes together. Anybody have an exploded view they can email me?
Sponsored Links
07-08-06, 07:50 PM
Join Date: Jul 2006
Posts: 4
anyone? How about a link to website that has an exploded view?
07-08-06, 11:28 PM
07-09-06, 04:47 PM
Join Date: Jul 2006
Posts: 4
07-10-06, 02:18 AM
Here is a link to a tecumseh manual in PDF form. It doesn't cover your exact model, but the carb section should cover your carb.
http://www.cpdonline.com/692509.pdf#search='tecumseh%20engine%20manual%20pdf'
07-10-06, 07:18 AM
Join Date: Jul 2006
Posts: 4
Thanks Cheese. So far I haven't found my carb in that manual but I'll keep looking. Mine has an extruded body but it is a float type carb.
This carb is opposite of every other float type I've worked on. The bottom of the body is machined flat. All of the jets and float assembly attach to the float bowl itself.
---
Last edited by txturbo; 07-10-06 at

07:42 AM

.
07-10-06, 12:12 PM
Aw shoot, you have the carb with the plastic bowl, right? That one won't be in that manual. I don't have a link for an exploded view or diagram of that carb.
07-10-06, 09:44 PM
Join Date: Nov 2005
Location: USA
Posts: 468
Vlv Carb
---
Look here: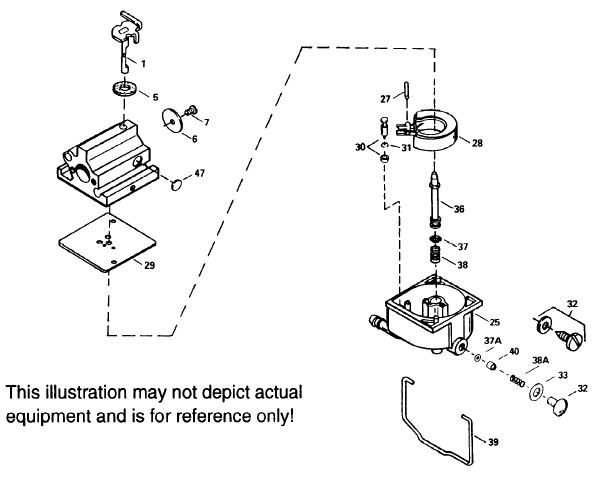 AJ
07-10-06, 10:06 PM
Posting Rules
You may not post new threads
You may not post replies
You may not post attachments
You may not edit your posts
---
HTML code is Off
---