briggs and stratton 28n707 15HP
02-07-08, 10:35 AM
Join Date: Feb 2008
Posts: 9
Received 0 Votes on 0 Posts
briggs and stratton 28n707 15HP
---
Greetings, I am new to this site. I need some help. I replaced a connecting rod on this engine for my meighbor Lady. How do I make sure it is on time and That I put the two gears together correctly in the oil pan.
---
Last edited by LenIvy; 02-07-08 at

10:38 AM

. Reason: tried to be clearer.
Sponsored Links
02-07-08, 11:54 AM
Join Date: Jan 2007
Location: MA
Posts: 515
Received 0 Votes on 0 Posts
There will be a timing mark on the crankshaft gear and on the cam gear. They need to be lined up. Also when you replaced the piston if it had a notch in it that needed to be on the magneto side of the engine and lastly why did the connecting rod need to be replaced? If the engine ran low on oil you most likely had some aluminum transfer on the crankshaft journals. If those were not cleaned properly, once the engine heats up you may be right back to square one. Just thought I would throw that out. Good luck
02-07-08, 01:55 PM
Join Date: Feb 2008
Posts: 9
Received 0 Votes on 0 Posts
Thanks for your replly. I believe that the Lady ran the macnine low on oil and the shaft broke. I replaced it . I cleaned all of the matter of the inside. I coned the cylinder wall and replaced the piston with the notch facing toward the flywheel . After putting it all together it would only crank up to almost a full turn and stop. I tried starting it again and it would only go part way again. I removed the spark plug and it would turn a complete circle.That made me think that possible it was out of time. Thank you for any help you can lend on this problelm. Len
02-07-08, 06:38 PM
Len,

It sounds like you need to check the valve adjustment on this engine. If the valves are mis-adjusted the mechanical compression release on the camshaft will not function properly. If the doesn't function the engine will do just as you described.


Remove the valve cover then rotate the engine over by hand until you reach top dead center compression stroke, Then remove the spark plug. Once at TDC insert a small screw driver in the plug hole touching the piston and rotate clockwise past TDC until you see the screw driver move down inside the plug hole 1/4".

Now loosen the jam screw in the center of the adjustment nut on the rocker arm and place a feeler gage between the rocker and valve stem then adjust to .003-.005" intake and .005-.007" exhaust. Hold the adjuster nut with your wrench while tightening the jam screw.

It may take a couple times to get it right because when tightening the jam screw it could throw the adjustment out so check after tightening.

Good Luck
02-07-08, 08:20 PM
Join Date: Feb 2008
Posts: 9
Received 0 Votes on 0 Posts
31Yteck,
Thanks for the info. I'll make the adjustment you sugested and let you know the results. Your help is appreciated.
Len
02-11-08, 06:04 PM
Join Date: Feb 2008
Posts: 9
Received 0 Votes on 0 Posts
Greetings,
I tried the adjustments that you suggested and it made no difference. Thanks anyway. I was told by and engiine repair person that it is probably just tight and that I would have to try start and run it. Lleln
02-11-08, 06:18 PM
I just re-read this thread. The symptoms you describe sounds just like a case of mis-adjusted valves. But, If the valves are adjusted to spec. and it still stops turning coming up to compression stroke it's possible the mechanical compression release was damaged when the engine came a part.

You didn't by chance look at/check this release while you had the cam out did you ?

You could smoke the starter trying to start one doing this if your not careful....
02-13-08, 08:00 AM
Join Date: Feb 2008
Posts: 9
Received 0 Votes on 0 Posts
31Ytech,
When I had the cam off I didn't
notice any other moving parts.
How can I check to see if the compression release is working. Where is it located or how can I get to it?
02-13-08, 04:09 PM
You can rotate the engine slowly by hand and watch the intake rocker and valve, The valve will start closing then once closed it will re-open slightly then close again. This is the release working to lower the compression. If you don't see this happening you will have to take the sump/pan back off and remove the cam to properly check, I left this pic large to show greater detail. The lobe to weight reject dimensions are .010"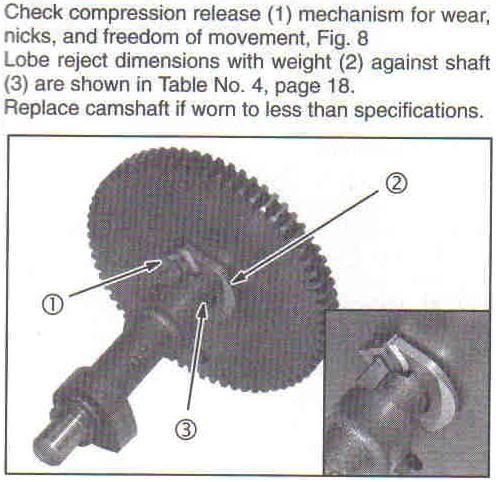 01-11-09, 06:05 PM
Join Date: Jan 2009
Posts: 1
Received 0 Votes on 0 Posts
If That Didn't Help...
---
Ran across this old thread while working on my 15.5 OHV Briggs 28N707 after throwing a connecting rod. I replaced the connecting rod, it turned over, but terrific backfire through the carb. Tore down again, cam was bent. Replaced cam. Still backfired like timing was WAY off. I go back and check crank timing gear key to see if OK, it is. Then check flywheel key, it has sheared and the flywheel has spun on the shaft so now the "timing" is off by about 60 degrees. New key, put the flywheel back where it should be, fires right up.
Posting Rules
You may not post new threads
You may not post replies
You may not post attachments
You may not edit your posts
---
HTML code is Off
---