compression release mechanism
02-18-08, 08:31 AM
compression release mechanism
---
I have a B&S 18.5 HP, model #31P777-0293.
Can someone explain how the compression release mechanism works and is it a seprarate part from the cam shaft.

Thanks,
Ron
Sponsored Links
02-18-08, 09:20 AM
The MCR is a spring loaded arm on the cam shaft that bumps the intake valve to relase compression during starting. I have never seen the parts listed independently but on some the parts could theoretically be changed if you had the parts.
02-18-08, 06:56 PM
Just to give you a idea what it looks like;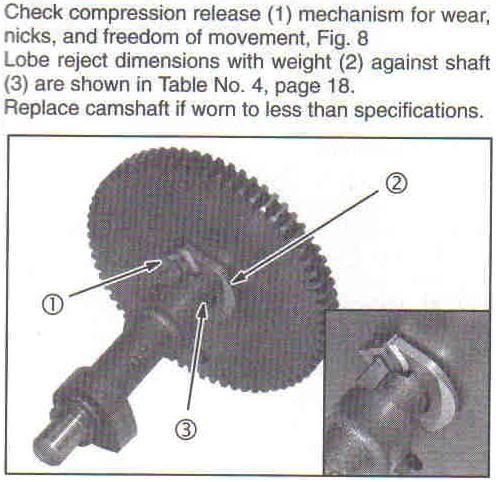 Also, The most common reason for one not to operate properly is loose/worn valves and or rockers. In most cases a simple valve adjustment solves the problem.
02-23-08, 05:42 PM
Some operate on the exhaust and some on the intake. I seem to remember that there was some sort of patent issue with the exhaust valve compression release, and that is the reason that some brands and models now use the intake as the compression release but I am not 100% sure on that.
02-23-08, 05:50 PM
Be sure to set you valve clearance about after a 1/4 inch drop in the piston from top dead center. This way you are on on the compression release part of the cam shaft. I have come accross some compression release springs on the cam that are weak. The compression release works fine when you are rotating by hand but when you spin with the starter you get a severe kick back. It even feels like a partially sheared flywheel key.
02-24-08, 05:09 AM
Just to clarify,
The reason for setting the piston 1/4" past TDC compression stroke is to get the valve tappet OFF the compression release lever before adjusting valve clearance.
If the valve was adjusted with the tappet on the release lever the release would not function, If the engine did by chance start the (on this posted engine) exhaust valve clearance would be too loose while running.
02-25-08, 05:40 AM
"This way you are on on the compression release part of the cam shaft"

sorry about my typing. the first on should have been "not".
02-25-08, 06:47 AM
02-29-08, 07:59 PM
How compression release mechanism works.
---
When the accelerator is released on a truck, its forward momentum continues to turn the crankshaft and compress air inside the engine's cylinders. When the crankshaft passes the top-dead-center position, the compressed air in the cylinder acts as a spring and pushes the piston back down the cylinder, returning the energy to the crankshaft and pushing the truck forward. Little of the energy absorbed by compressing the air is lost, so the engine does not effectively aid in slowing the truck. Of equal importance, even with zero accelerator input, there will be some trace introduction of diesel fuel (make and model dependent) which will still undergo combustion. Any power created from this will hinder efforts to decelerate. It is better to check all the parts is in quality.
---
Last edited by cheese; 02-29-08 at

09:25 PM

.
Posting Rules
You may not post new threads
You may not post replies
You may not post attachments
You may not edit your posts
---
HTML code is Off
---