Craftsman to a junior Drag
02-19-08, 12:19 PM
Join Date: Feb 2008
Posts: 17
Craftsman to a junior Drag
---
well, here in cape breton we have a dragway 1/4 mile and they have a junior dragger class ( no offence but there not really fast maybe 30 mph) and i have a craftsman 12.5 hp with a electric start and alternator, it is tweaked to have more power but not speed , since i live on a farm and travel in and out of the woods on it i didnt really need speed , but i was wondering if i can have speed and power and win the race, I do own a garage and am very familliar with Cars and Heavy machinery, and i have all the tools i could need , i just need the rigth idea and advice from someone who knows what they are doing i have a 4 speed tranny belt driven, I want to stay away from lowering the front swing arm or welding it because i still want some movement , and no im not gonna ruin my motor with friggen around with the governor. in Cape Breton there is no such thing as lawnmower racing i want to show them and get them intrested im not looking to spend that much money max. 100 i have many parts lying around also i might be rebuilding a 16 hp briggs 2 cylinder i dont know if its reparable.
Sponsored Links
02-19-08, 12:52 PM
Join Date: Feb 2008
Posts: 17
and any idea how much a peerless 600 transaxel would run me ?
02-19-08, 02:35 PM
For some reason I though the limit was 5hp at the strip for junior drags. I'll have to look it up.
02-19-08, 04:39 PM
Join Date: Feb 2008
Posts: 17
02-19-08, 05:55 PM
Join Date: Oct 2002
Location: Hamilton County, Ohio
Posts: 4,288
Jr drag racers usually run 1/8 mile and can do it in the 9 second range at 60+ MPH. Full cages and other safety gear required. Multiply your $100 by 50 and you could stand a chance.
02-19-08, 06:02 PM


That said, if you speed up your mower you really should lower & lock your front axle, as well as lowering (and preferably locking) your transaxle.
02-19-08, 06:23 PM
Maybe something like these would be with-in your budget. If, You have the tires laying around;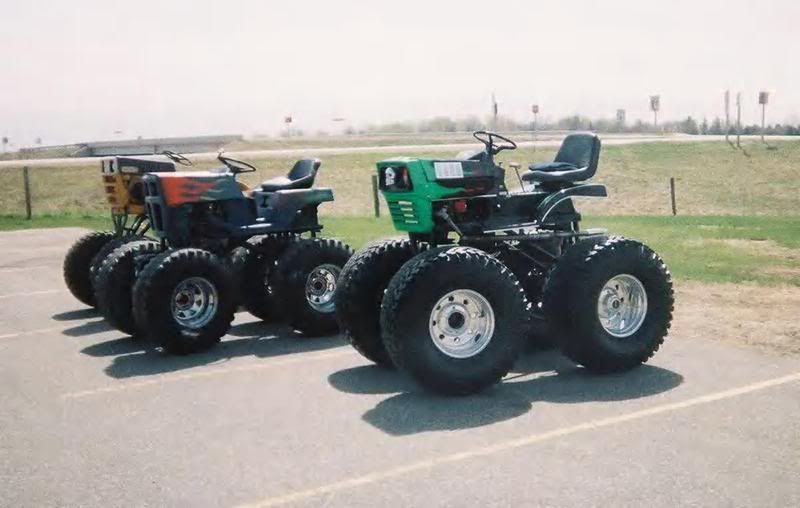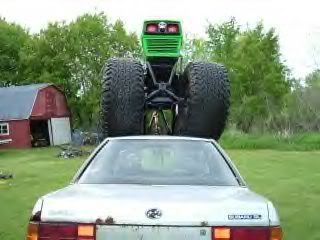 You could do exhibition shows. Who knows, You could be the starter of the newest sport of Monster Mower Racing like Bob Chandler and his BigFoot.
02-19-08, 09:15 PM
To get the speed, go to a bigger engine pulley and smaller tranny pulley. A 600 tranny would be perfect. I built a racer using that tranny and it performed well. I outran 4-wheelers with it. You can usually pick one up used for $75 or so, sometimes less. Look for old rusty mowers in the weeds. Those old mowers from the 70s and 80s are where the good trannies are.
02-20-08, 11:51 AM
Join Date: Feb 2008
Posts: 17
03-02-08, 02:34 PM
Join Date: Feb 2008
Posts: 17
Canadian model
---
Its a Candian model LT11 I cant seem to find the model number ive checked everywhere alot of things have been modified years ago when my brother made it the way it is now , a workhorse, so if anyone can find a model number it would be appreciated thnkss
03-02-08, 03:04 PM
That thing being a LT11 could have been built by Murray and Sears installed their decals, A pic is worth a thousand words.
03-02-08, 03:09 PM
Join Date: Feb 2008
Posts: 17
03-02-08, 03:24 PM
Join Date: Feb 2008
Posts: 17
03-02-08, 03:26 PM
No Problemo....
03-02-08, 04:12 PM
Join Date: Feb 2008
Posts: 17
Changed my mind
---
the guys below were right! i cant drag my mower but around here we have a pretty fun mudrun , i was thinking if i could mount bigger tiress , put an exhaust on that goes straight upp so i can put bigger tires in the front too maake up a base plate that i can take on and off with cotter pins for quick cleaning and maintnance and possibly makeing it chain drive. Does any one know where i can get 2 cheap four stud hub that i can put on my transaxle ?
Posting Rules
You may not post new threads
You may not post replies
You may not post attachments
You may not edit your posts
---
HTML code is Off
---