Briggs & Stratton 15HP OHV wiring
03-22-08, 07:49 AM
Join Date: Mar 2008
Posts: 1
Briggs & Stratton 15HP OHV wiring
---
3/22/08
Hey Guys - HEEEEELP!!!
I have a 15HP OHV Briggs & Stratton - Electric Start - Model: 28N707 - Type: 016201 - Code: 9410214B. I'm installing it on a log splitter. My problem is that I can't figure out how to correctly wire it???? I just want a power on switch, a push button start, an amp charging gage and a regular old lawnmower battery. Will someone please send me a diagram that will solve my problem.
Thanks,
mikeme
---
Last edited by mikeme; 03-22-08 at

07:51 AM

. Reason: word usage
Sponsored Links
03-22-08, 02:41 PM
If you have a non regulated charging system it can be wired as below. There are four charging systems that could be on this engine.
If the carb has a fuel cut-off solenoid you would need a second toggle switch wired from the battery pos to switch then to the solenoid. Or you can use a standard mower switch in place of two toggles or remove the solenoid and snip the needle tip end close to the body with wire cutters then screw it back in.
When hooking to the stator make sure you use the wire with the diode just before the plug connector.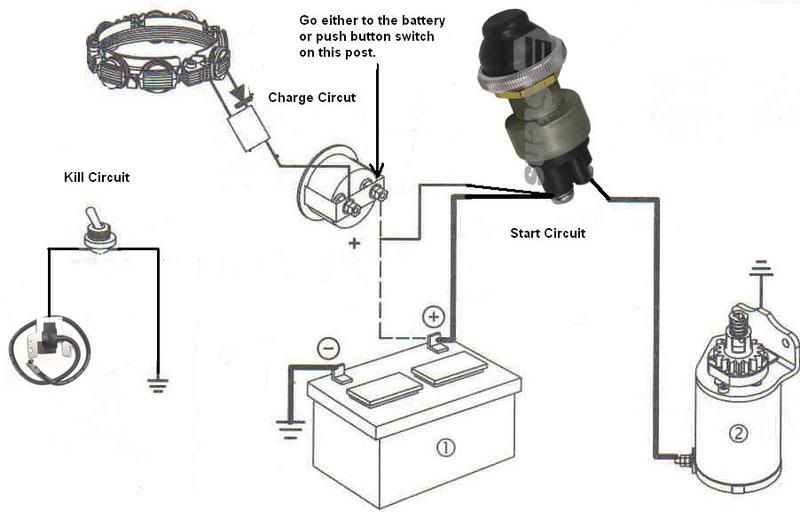 Good Luck
Posting Rules
You may not post new threads
You may not post replies
You may not post attachments
You may not edit your posts
---
HTML code is Off
---