Bolens stuck in gear?
04-07-08, 03:22 PM
Bolens stuck in gear?
---
Model 13an683g163217440 17HP 42" deck
Daughter ran it out of gas at the end of last season with blades down and in gear and I cannot get it out of gear and it will not start/crank.
Checked belts good, bought and charged new baterry.
checked all safety switches I could find. Gear selector seems rather free but not out of ordinary. Any help would be greatly appreciated.
04-07-08, 07:14 PM
04-30-08, 10:48 AM
Deckbelt off, can turn spindle by hand , it seems like the trans is stuck wheels are locked with gear selector on N all belts seem to move freely. With the brake off and clutch depressed I still can't get wheels to roll..still will not try to crank over..........Any more idea's?
04-30-08, 05:00 PM
Doe's it make any noise at all when the key is turned to start position ?
Below is most likely your no roll problem, You will find the brake yoke on the right hand side of the transaxle behind the wheel.
Cya
05-02-08, 04:53 PM
OK,
The click tells us you have power to the ignition switch and the fuel cut-off solenoid is working.
Just for giggles get in the seat, Push the clutch/brake pedal then pull outward on the deck engagement handle then further back to you and hit the key. As you can see below this switch is mounted with the plunger facing upward so sand/water can enter then cause a bad connection.
If it still wont crank over both the clutch/brake switch and PTO switch can be tested with a multimeter.
On both switches you have four wires, Yellow/yellow white stripe.....orange white stripe/orange black stripe. Unplug the switch and put your test leads on the same color scheme wires (yellow/yellow-orange/orange) If you have a open circuit activate the switch and it should now show a closed circuit, If the circuit is closed it should show a open circuit when the switch is activated.
OR, You can use a jumper wire, Unplug the clutch/brake switch and jump the corresponding color wires together and try to crank the engine over, If it still wont crank over move to the other two wires. If jumping both sets of wires on the clutch/brake switch doesn't allow cranking move to the PTO switch jumping in the same manor.
But, Once the faulty switch is identified replace that switch, Leaving the jumper connected can lead to a engine shut-down when other switches are activated.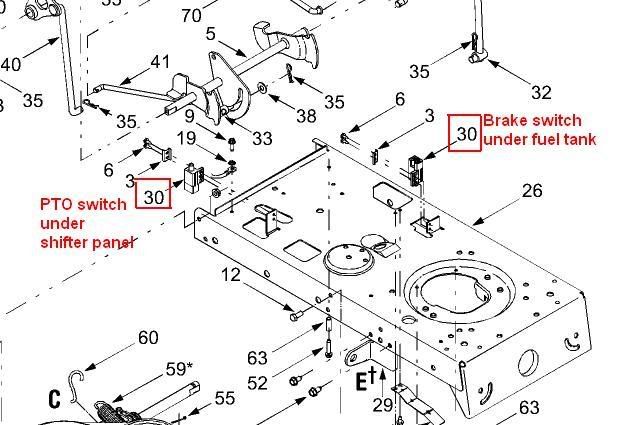 Good Luck
05-02-08, 06:31 PM
Switches were fine...after your suggestions all showed proper working order it turns out it was a faulty ignition switch. As I sat in the seat frustrated I jiggled wires on the ignition switch while turning the keay and off it went...Thanks again for all of your great advice.