Honda ht-r 3009 riding mower steering problem
04-17-08, 04:31 PM
Join Date: Apr 2008
Posts: 4
Honda ht-r 3009 riding mower steering problem
---
For the life of me I can't figure out how to fix a part. Under my mower is where the steering column attaches to a gear. This gear interacts with a big gear that has a rod that attaches to the wheels. This gear is my problem. It is almost frozen. On the upper side of the deck is a compression ring and washer ontop of the rod that goes to this funny gear. After I took them off this piece doesn't budge. Please help me get this off. I have a pic. I can email. Thank You, sorry I don't know the correct terms.
Sponsored Links
04-17-08, 05:37 PM
If you haven't already, Get a can of quality penetrating oil and spray the mess out of the sector gear bushing and let it sit over night. Remove the drag link joint #23 from the sector gear #4.
Spray more penetrating oil and tap the bottom of the sector gear with a hammer while holding a little pressure turning the steering wheel. Keep spraying and working the steering wheel back and forth and see if it will loosen up.
Be careful, You don't want to turn the steering wheel too hard and strip the gears.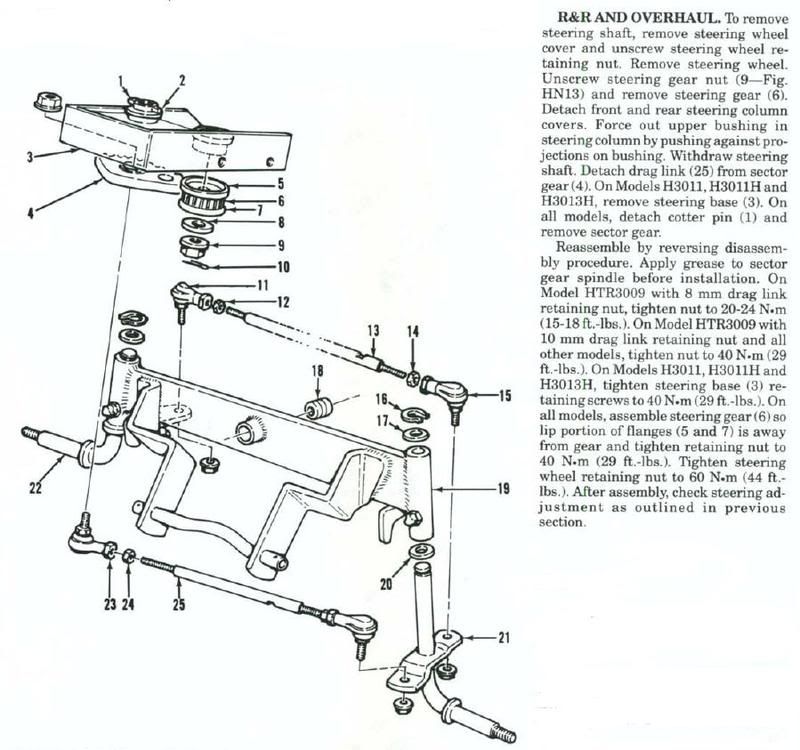 Good Luck
04-18-08, 05:03 PM
Join Date: Apr 2008
Posts: 4
None of that works.
---
Thank you for responding. I tried all you suggested with no success. I think I need to take this sector gear off. It does not come off though. My mower is different then the one you have pictured. It uses one compression ring instead of cotter pin. When I remove the ring and coresponding washer, nothing budges.
04-18-08, 05:26 PM
OK, That other pic came out of a generic service manual, Here is the set-up you have;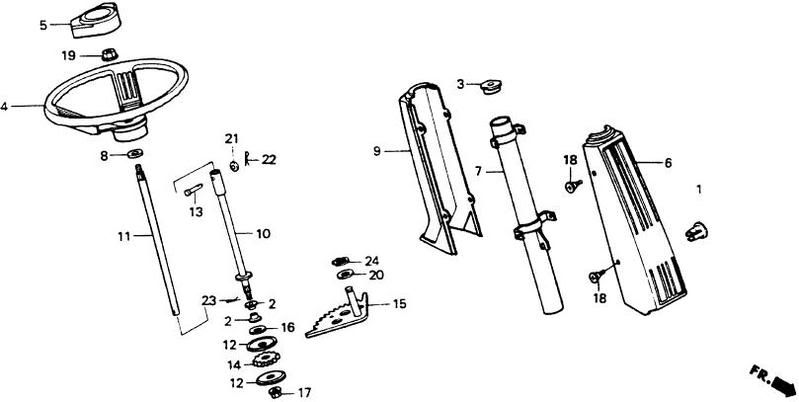 Has this mower been sitting out in the weather for a while or went through a flood ?
You may have to strip all you can out of the way and apply heat to that frame section to get it loosened up, As you can see it is a removable/replaceable part so ya gotta do what ever it takes to get it loose.
Good Luck
04-18-08, 06:07 PM
Join Date: Apr 2008
Posts: 4
Thanks
---
Thank you, I didn't want to "Do whatever it takes" till I was sure it was removable. I appreciate your knowledge.
04-18-08, 06:56 PM
Any Time barfly.....
04-20-08, 12:06 PM
Join Date: Apr 2008
Posts: 4
Still Going ape here.
---
I've hammered this thing with no results, Iv'e heated with propane for up to a minute with no results. Any ideas before I try dynamite? After all the abuse I am giving it it isn't buging down but it still turns side to side. To bad all the penetrating oil and hammering didn't fix my problem though.
04-20-08, 01:49 PM
OOOK,

Before you break out the dynamite I'm going to send you a private message with my email, Send me some good shots of this thing due to my eyes failing from Ole age.....
09-18-08, 10:04 AM
Join Date: Sep 2008
Location: Allentown Pa.
Posts: 1
Any progress? I have the identical problem.
Ray
09-08-12, 11:11 AM
Join Date: Jun 2012
Posts: 1
I had similar issues with my Honda HTR-3009 Riding Mower, the steering was tight and was sticking, a real problem for me. So to fix this problem I took the steering column apart and greased it up. See instructions here:
Honda HTR-3009 Riding Mower Sticky Steering Fix - YouTube
This worked wonders to solve my steering problem on the Honda HTR-3009 riding mower, hopefully it works for you!
Posting Rules
You may not post new threads
You may not post replies
You may not post attachments
You may not edit your posts
---
HTML code is Off
---