Kawasaki FH580V wiring hook ups
04-30-08, 04:24 AM
Join Date: Dec 2007
Location: Kentucky
Posts: 46
Kawasaki FH580V wiring hook ups
---
Will someone help me with wiring a new Kawasaki FH580V to my old Bunton B61R-180N. It's the 61" three wheel rider. This one was made in the late eighties and originally came equipped with an 18HP Onan Performer XSL. The engine is complete, mounted, starter turns but there is no fuel pump action. I didn't get any printed info with this engine and have no experience installing. There is a wire from the fuel pump solenoid which is routed to the side of the engine near the starter. There is a second wire from somewhere else which is also routed to the same location. There are two wires connected to the voltage regulator but a third position has no wire attached. I know I may not be using the correct terminology, my hope is that I've presented a clear picture. Thanks
Sponsored Links
04-30-08, 07:24 PM
Hey blueshirt,
Here is a wire diagram from Kawi that may help you get this unit going.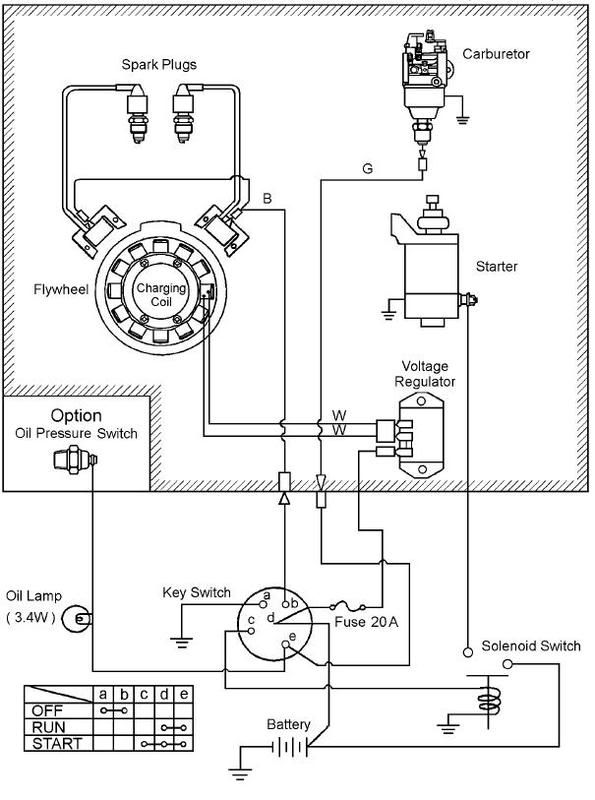 You just have to make sure if you have a fuel cut-off solenoid on the carb that it's wired to operate in both the run and start positions.
Good Luck
05-02-08, 07:10 AM
Join Date: Dec 2007
Location: Kentucky
Posts: 46
Thank You! This should be worth it's weight in gold!
Posting Rules
You may not post new threads
You may not post replies
You may not post attachments
You may not edit your posts
---
HTML code is Off
---