B&S 8hp oil leaking under head
05-02-08, 05:28 AM
Join Date: Dec 2007
Location: Ottawa. Canada
Posts: 66
Received 0 Votes on 0 Posts
B&S 8hp oil leaking under head
---
B&S 8hp 191702 2139-01 83113010

I've been noticing fresh oil building up on the bottom of the crank case housing right under the head, there's a little ledge there.

I pressure washed it, changed the oil, tighten the head bolts and replaced the dip stick 'o' ring.

As far as I can tell the oil seems to coming down from the bottom of the cylinder head (underside).

Engine starts and runs good. Although the engine tends to fluctuate in rpm's a little bit.


My question...

Do you think it's the head gasket causing this oil leak !?

and if so...

Will it be a big job to change said head gasket.

I plan on doing this asap so any help or advise will be appreciated.

Thanks.
Wayne.
Sponsored Links
05-02-08, 07:32 PM
Join Date: Dec 2007
Location: Ottawa. Canada
Posts: 66
Received 0 Votes on 0 Posts
Wow !

So not a single person knows anything about b&s engines here ?


Is it hard procedure to remove the cylinder head ? Do you need any special tools ?
05-02-08, 08:17 PM
Wayne;
It's Friday nite, lighten up;
After you power wash the engine run it for a short time to see where the oil is coming from, if it's the head gasket, remove the bolts,clean the mating surfaces, install the new gasket, tighten the bolts to specification and your done. The engine surging is a dirty carb and not related to the oil leak. Have a good one. Geo
05-02-08, 08:37 PM
Well Wayne,
Only because I missed your thread earlier this evening (eyesight/age) I dug this up for you !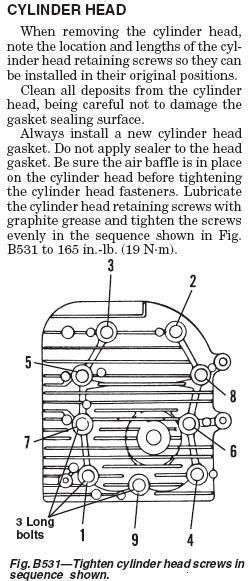 Most of the Tech's on here have jobs and business's to run and can't post any minute of the day.....
Good Luck
05-03-08, 08:07 PM
Join Date: Dec 2007
Location: Ottawa. Canada
Posts: 66
Received 0 Votes on 0 Posts
I do apologize for my cockiness the other night. If it matters any... It was defiantly one of those days.

But I do thank you kindly for all the info you have provided.

The wealth of information you guys provide to us through this web site is a 'life saver' for us do-it-yourself'ers

Thanks again.
Wayne
05-03-08, 08:28 PM
No problem Wayne,
Again, Good Luck with your repair.....
05-21-08, 03:28 PM
Join Date: May 2008
Posts: 13
Received 0 Votes on 0 Posts
No luck with the head removal check air breather housing usually located under intake. If oil was leaking into the area of the head you would most likely be smoking terribly bad. If not pulsating properly will cause oil leak while engine is running. Remove intake and two small screws holding breather to block and pull away careful with gasket. Try cleaning with carb cleaner and push lighly on the small wafer material in hole if it does move easily replace and a replacement would be best. Good Luck oopsy 59
05-21-08, 03:58 PM
Join Date: Dec 2007
Location: Ottawa. Canada
Posts: 66
Received 0 Votes on 0 Posts
Thanks for the replies...

As it turns out it was the crankcase gasket all along that was leaking. I started another post and tech helped me along.

So far no leaks !

Once again thanks to all that lent a helping hand.

Cheers
Wayne.
Posting Rules
You may not post new threads
You may not post replies
You may not post attachments
You may not edit your posts
---
HTML code is Off
---