Setting polarity on voltage regulator ?
05-03-08, 07:28 PM
Join Date: Dec 2007
Location: Ottawa. Canada
Posts: 66
Setting polarity on voltage regulator ?
---
Hi. First some back ground then my question.
I'm just about at the end of a winter restoration of a old 75 16hp b&s mtd tractor. Everything done from the frame up. Just finished the wiring harness tonight, almost ready to turn the key and give her a try.. Looking good too. All that new paint. John Deer Green !
Well anyway.
When I got the stater/generator rebuilt this winter I also bought a new voltage regulator. I remember the gent there telling me I needed to short two leads (spark them) on the voltage reg to set the polarity. Of course I didn't wright it down... why would I do that for ?!
The voltage regulator has four leads.. Gen, Bat, F, L and grounded to chassie.
And yes I do know I could just wait until Monday and give him a call but...
Tomorrow's Sunday ! and I have Doityourself !
Thanks
Wayne
Sponsored Links
05-03-08, 07:52 PM
Wayne,

Honestly, I have no idea what this gent it talking about.

I have never heard of or performed what he is speaking of, So just for giggles I read all 5 pages out of my Briggs service manual (starter/generator section) and there was no mention of doing anything like this. I have always just installed them with no problem.

So, It's your call ?
05-04-08, 07:01 AM
Join Date: Dec 2007
Location: Ottawa. Canada
Posts: 66
Thanks for the reply.

Only thing I can think of that might have some relevance. I didn't buy OEM voltage reg. I had three choices. OEM(us) $125.00CDN, the one I bought $75 (india) and the $55 (china or mexico).

Yes I cheeped out a little I know. It had just cost me 230 for a generator rebuild !


I watch this web site regularly, reading about you guys working on several small engines per week at your jobs...

One thing I've learned over the years. You want to get good at something.. Repetition is where it's at !


I think I might just pop battery in there in a bit and give it a try !

Cheers.
Wayne
05-04-08, 11:50 AM
Join Date: Dec 2007
Location: Ottawa. Canada
Posts: 66
Well I hooked up the battery and started her right up. Didn't run all that well but did start right up! I need to work on the carb. linkage now.

There is a rod that attaches from governor arm to the throttle reed. On the governor arm there are multi positions to attach to. This rod also has a spring wrapped around it. I can't figure how the spring should attach nor which hole I should use on the governor arm ? Also a second smaller spring that I'm not remembering where it should go.

I have the b&s pdf for this engine but they don't show where the springs should attach ?!

Anyone know where I might find linkage info for B&S engines.

Thanks.
Wayne
05-04-08, 04:28 PM
I'm 90% sure of what engine you have on this unit but can you post the model number just to make sure I post proper linkage set-ups ?

Cya
05-04-08, 05:55 PM
Join Date: Dec 2007
Location: Ottawa. Canada
Posts: 66
05-04-08, 06:40 PM
Hmmm, Just as I figured but wanted to make sure I was on the right page.
Here's the only two pics shown in my manual, Hopefully they will give the info you need since I can't see your set-up.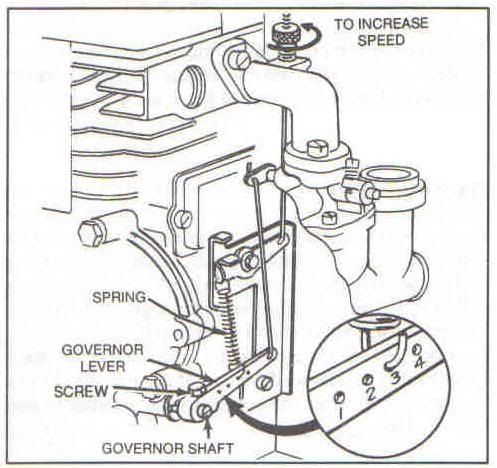 Good Luck
05-04-08, 08:11 PM
Join Date: Dec 2007
Location: Ottawa. Canada
Posts: 66
Picture # 1 is the ticket.

Thanks again Tech

Wayne
05-05-08, 05:16 AM
Good Deal Wayne......
Posting Rules
You may not post new threads
You may not post replies
You may not post attachments
You may not edit your posts
---
HTML code is Off
---