Briggs & Stratton Oil Gard question
05-15-08, 09:45 AM
Join Date: May 2008
Posts: 2
Briggs & Stratton Oil Gard question
---
I own a Generac SVP 5000 series generator that has a Briggs & Stratton Industrial Plus model 196412 type 012901 code 9702191A engine. The engine wouldn't start this month and I checked for spark and there was none. The oil level is ok and the spark plug is new. I disconnected the lead to the Oil Gard module and the spark returned. I started the engine and reattached the wire to the oil gard module and it stayed running . It now starts with no problems. Can someone explain how the oil gard module works? Since this is a splash oil system I figure that it is a oil level switch of some kind. I checked the wire with an ohm meter and physically removed it to check for worn or missing insulation and it is ok. Does this unit complete a ground to enable the ignition or does it complete a ground to disable the ignition.

Thanks
Wayne
Sponsored Links
05-15-08, 08:15 PM
Hey Wayne,
This should cover your question;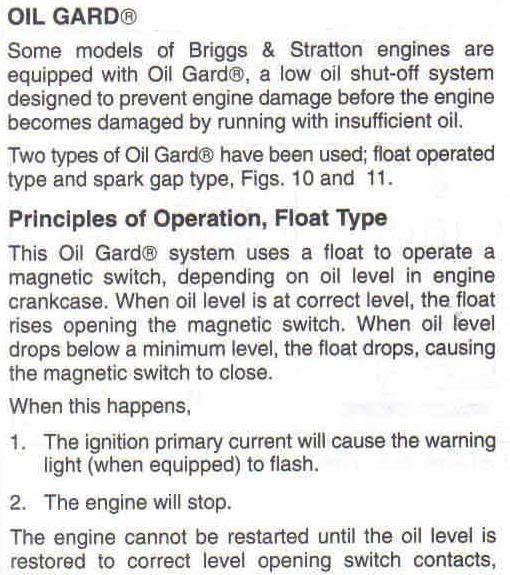 It's possible the float stuck ? If problems persist the module can be removed and washed in mineral spirits then lightly blown out, If that doesn't help replace it.
Cya
05-16-08, 06:35 AM
Join Date: May 2008
Posts: 2
That makes sense to me now. The output terminal showed continuity to ground when I checked it. I think I will clean it with mineral spirits now and monitor it with my monthly start up schedule. Thanks for your help.
Wayne
Posting Rules
You may not post new threads
You may not post replies
You may not post attachments
You may not edit your posts
---
HTML code is Off
---