Honda 3011 riding mower brakes
05-18-08, 05:57 PM
Join Date: May 2008
Posts: 6
Honda 3011 riding mower brakes
---
Just picked up a old Honda 3011 . found a manual online
but no details on brake adjustment or replacement..
it is a manual transaxel seems the brake is in that?
I found brake pads online but want to understant replcement
and adjustment procedure before ordering..

Thanks
Ken
Sponsored Links
05-19-08, 12:25 AM
I have never had to work on the brakes on one of those. The brakes are inside the tranny, as you suspected, if it has the MAT transmission. There may be an adustment at the brake arm on the tranny...can't remember for sure.
05-19-08, 05:48 AM
Ken,
Here is your brake assembly, The only real adjustment is with nut #20 on the end of rod #11. But, In a pinch you could remove screw #15 then arm #4 and re-locate it on the splines to get just a little more pull on the shoes.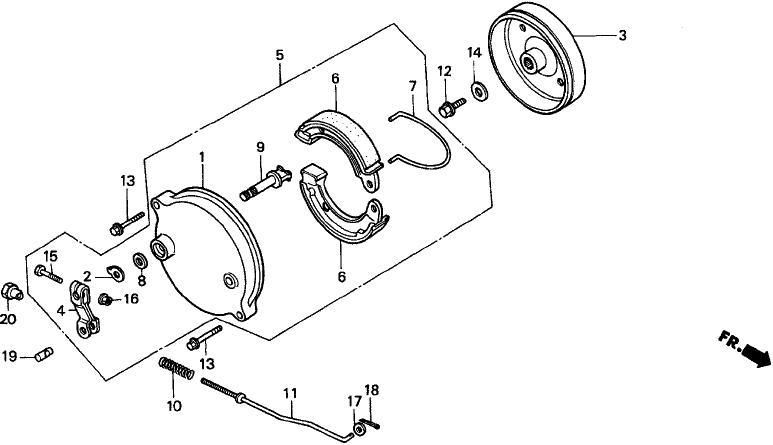 Good Luck
05-20-08, 02:59 PM
Join Date: May 2008
Posts: 6
Very clear diagram
---
Ok looks like a very simple set up..
Looked at the mower this afternoon I presume the brakes are
not very strong?
If I adjust them to where I cant push it in nutrole and then back them off to where I can push it,it dosn't have enough
brake power to stop on a incline..
Im thinking there may be to much slop in the linkage as the brake lever on the Trans dosn't move much on full pedel down
looking at the cam system I would think the shaft on the brake lever would turn at least 1/4 turn,but looking at the lever while fully depresing pedel I can't see the lever moveing more then a 1/8 in at the farthest point from the shaft.

Thanks
Ken
06-29-08, 09:56 AM
Join Date: May 2008
Posts: 6
Sorry for takeing so long to get back.
Problem solved part 9 in the Diagram was coroded some PB blaster on it and spining it
with a set of vise grips losened it ip nicely
Thanks
Ken
05-24-09, 02:54 AM
Join Date: May 2009
Location: South East
Posts: 1
Manual?
---
Hi There,

I have a 3011 and am looking for a manual but have not found one. Where did you find it online?

THANKS!
-Ken
05-24-09, 04:56 AM
Join Date: May 2008
Posts: 6
Posting Rules
You may not post new threads
You may not post replies
You may not post attachments
You may not edit your posts
---
HTML code is Off
---