pressure washer not kicking in when trigger pulled
05-21-08, 08:22 AM
Join Date: May 2008
Posts: 4
pressure washer not kicking in when trigger pulled
---
got a 3000 psi washer, Craftsman. Engine runs good, but the pressure won't kick on when I pull the wand trigger.

I've replaced the o-ring in the hose, it was leaking. I"ve removed all the valves and inspected them, they operate properly.

I can get the unit to kick on if I over run the governor. Speeding up the engine while pressing the trigger will cause the unit to pressure, but as soon as I release the trigger and pull again, nothing... until I overspeed the engine again.

The pressure pump says it should run at 3600 rpm, but the engine is only running at 1800. Does the gear box have an "overdrive"?

What else is there that I could check, any thoughts? Thanks
Sponsored Links
05-22-08, 01:47 AM
Sounds to me like the engine needs to be sped up a bit. How did you easure the 1800 rpm? If it is in fact only running that fast, speed it up.
---
Last edited by cheese; 05-22-08 at

11:47 PM

.
05-22-08, 06:18 AM
Join Date: May 2008
Posts: 4
I used a tach. The engine has a max speed adj. screw, but it's pretty well maxed out, certainly not going to get it on up to 3600. It's one of those B&S Vanguard models with overhead valves.

Just didn't know if the pump's gear box had a gear reduction in it that overdrives the pump.
05-22-08, 06:06 PM
Well,
Model number off the unit and model and type numbers off the engine being posted would save some guess work.....
05-22-08, 07:27 PM
Join Date: May 2008
Posts: 4
I just happen to have them:

Washer is a Craftsman Model: 919.762700

B&S is: Type: 128432 Mod: 0035E1 made in 1997

The pump has a tag also:
Annovi Reverberi XMV 3G30, RPM 3400

I'm not really sure how the pump system works is the issue. I had a pretty good leak at the pump connection where the hose goes. The O ring was bad so I replaced that and the leak is fixed.
This seemed to help. Seems like the pump does not "know" when the trigger is being pulled.
05-22-08, 08:09 PM
That is a direct drive pump (no reduction) so you need to get the RPM back up in the 3550/3600 range.
If you are out of adjustment on the high speed adjuster screw you may need to remove the fuel tank then move the governor spring over to another hole in the direction below. But, Back the adjuster screw out some before trying to re-start the engine then adjust as needed to get the above spec....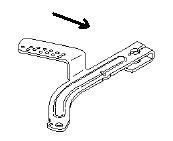 If setting the RPM to spec doesn't help and the pump valves you say are clean I would lean toward a bad un-loader valve and they are proud of that one.
Good Luck
05-23-08, 06:58 AM
Join Date: May 2008
Posts: 4
thanks 31Y, that's good info

I was checking the tank and noticed lots of crap down in there so it needs to come off anyway. I"ll move the spring over.

I'm guessing over time the spring could have weakened. Used to see that a lot on push mowers.
05-23-08, 11:10 AM
Most of these units I work on have a high / low speed lever so you can start and shut down the unit. With the lever which is just above the recoil you should see a stop sign, turtle, rabbit symbol or simular notations. The throttle should be on the rabbit and you will get 3600 rpm. I get a lot of these in the shop where the customer is not moving this lever and they say they have no pressure.
Posting Rules
You may not post new threads
You may not post replies
You may not post attachments
You may not edit your posts
---
HTML code is Off
---