What I did with the old lawn tractor someone gave me.
Join Date: Jun 2008
Posts: 150
GA
What I did with the old lawn tractor someone gave me.
I hire someone to do my lawn, and it didn't come with a mower deck, so I've converted it into a winch for launching radio-controlled sailplanes.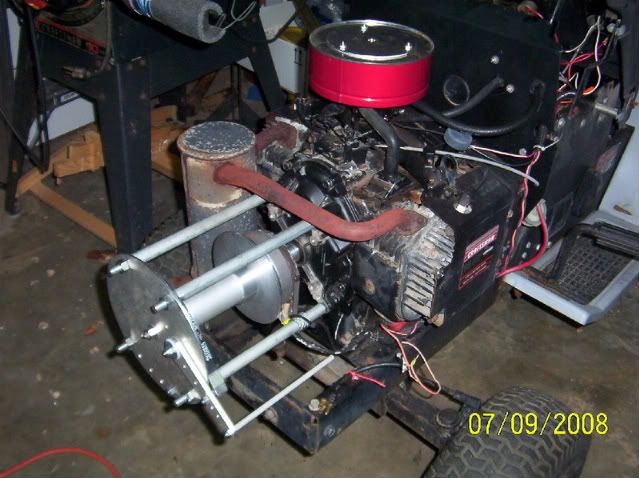 So far, I've spent about $60 on the project, most of it to get the tractor running again. That's less than a new battery for my electric winch. Plus, I've had a pile of fun designing the winch and machining the parts for it.
More pictures here:
http://smg.photobucket.com/albums/10...riggs%20Winch/
Sponsored Links
Join Date: Apr 2004
Posts: 592
PA
Now THAT'S an interesting adaptation!
Join Date: Jun 2008
Posts: 150
GA
Not yet. I'm hoping to get a trailer by this weekend to carry it to the flying field, and then we'll need decent weather to try it out. Should be interesting.

I've thought about doing something like this for a while with a smaller engine, but didn't want to spend the cash. The freebie engine presented an opportunity I couldn't pass up.
Join Date: Jul 2008
Posts: 3
CA
A twin cylinder 16 for free huh? nice find! I wish i could get one like that. I got a single cylinder 12hp B&S for free but its a vertical shaft, not as good for what i want to do with it.

How many feet of line is that going to pull in? I bet its going to pull quick! haha... nice stuff.
Join Date: Jun 2008
Posts: 150
GA
I'll have about 1800 feet of nylon line on the winch. It runs from the winch out to a turnaround pulley and back to the plane. I'll stand next to the winch when launching the plane. You can see a launch (not mine) here:
http://www.youtube.com/watch?v=3epeN...eature=related
My friend came through with the trailer, and I tried the winch out yesterday with my eleven-foot sailplane. It worked just like I expected it to. No problems, no surprises. I've got a lot of experience designing and building things, and this whole project has gone very smoothly.
We plan to try it again Saturday with a larger plane.
Join Date: Jun 2008
Posts: 150
GA
There's an L-shaped towhook on the bottom of the plane under the wing. There's a small parachute on the end of the launch line. The 'chute has a ring on the top that slips onto the towhook. Tension on the line keeps the ring on the hook and the chute closed.

At the end of the launch, the line goes slack, the chute opens a little, and the ring slides off the hook. The chute make it easy to find the end of the line so you can pull it back for the next launch.

I've been flying sailplanes since 1988. The plane I fly now is one I built in 1992. It's had thousands of flights, two new radio systems, several battery replacements, and one minor "hangar rash" repair.