Need instructiions for governor adjustment on 18HP Briggs flat twin
08-12-08, 01:12 AM
Need instructiions for governor adjustment on 18HP Briggs flat twin
---
I have an older Briggs flat twin 18HP horizontal shaft engine. The engine is a model 422437 type 1266 01 code 90102332.
The governor is working just fine, but I want to adjust it so it lets the engine speed drop when I put a load on the engine. For my application, I'd like the engine to slow down when a load is placed on it.
I could just hook the throttle cable directly to the throttle shaft on the carb, but I want to keep the governor so the top speed will be limited to 3000rpm.
There appears to be an adjustment screw on one of the levers, but I'd like know more about the adjustment procedure befoe I change anything.
The engine is on the winch I built for launching RC sailplanes.
08-12-08, 11:46 PM
You're probably going to just have to play with it and the spring positioning to get it where you like it. You may not get it to respond exactly as you want, because it is designed to maintain rpm, not let it drop. Set the throttle on the carb to wide open. Loosen the governor arm, move it all the way in the direction that would make the throttle go wide open, and this is where you would tighten it. Back off a little and the governor will begin to lose response and allow lower rpm under load.
08-16-08, 08:47 AM
No offense Mr. Cheese,
But, Backing off the governor shaft from the stopped position (If I read right) would be simulating a worn governor and or linkage. This would cause the engine to run at higher than normal RPM's.
Now,
If one would like to change engine RPM and governor sensitivity together it could be done by either changing the spring location on the arm as mentioned or replacing the governor spring with a different color.
There is only one hole to move the spring too on this particular governor arm as below Fig. 1
Here is a example of what I mean about changing spring colors, These colors are for a single cylinder OHV engine and may not apply to the L- twin. I could not locate a spring color de-notions for the twin in question.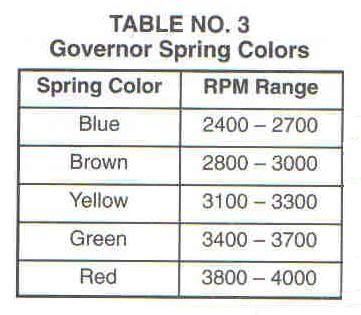 There are four different springs for this engine in question;
It should have a Orange on it now part# 691273.
Black is part# 690559
Red is part# 690557
Brown is part# 690558
Good Luck
08-16-08, 09:26 AM
Thanks for posting that info, 31YTech. I think that's what I need.

It would really help if you could type out the info that's printed around the picture inside Figure 1. I can't make the words well enough to read them.
08-16-08, 11:51 AM
Thanks again for the help.
Here's my plane. The wingspan is just over eleven feet; weight is four and a half pounds. I've been flying it since 1992.
My friend has one that's a bit larger, and it weighs almost twice as much. It's got a retractable wheel for take-off and landing.
The 18HP Briggs winch is wacko overkill. The 4.5HP electric winch I built to launch my friend's plane does a good job. My own electric winch is only 1.5HP.
Since the engine was free, I couldn't pass up the opportunity to build a winch to go on it. We both really like it. We hardly use the electric winches now.
08-16-08, 02:32 PM
Thanks Roger,
Was wondering......Do you have a pic of this wench with a plane strapped to it or how ever you do it ? Maybe a brief description ?
Seee, I'm a welder fabricator as well and have built some pretty nifty items here and there but this one has me intrigued.
Thanks for YOUR time....
08-16-08, 04:20 PM
---
Last edited by rogerflies; 08-16-08 at

04:40 PM

.
08-16-08, 10:24 PM
Very nice! I love to fab stuff too, but unfortunately it's usually only done out of necessity around here. I don't get to play around too much. You've got skills.

31YTech... You're right. No offense taken, in fact, thank you for catching my mistake. I don't know why I even forgot they have different springs, etc... I guess governor manipulation isn't something I do often....er...ever.
08-17-08, 04:33 PM
No problem Mr. Cheese.....
Hey Roger,
That's some neat vids, I can see now why you may need to de-tune that wench....LOL
Cool looking fab jobs as well....
Wondering what the Octagon looking thing ended up being ?
I really never got too deep into ornamental objects due to some of the brakes and benders can be expensive, I really get into a good mechanical challenge.
I've built my share of BBQ's and trailers ect. but I didn't get any pics of them (didn't get a digital cam till last summer), I also whipped up two of those little rascal lifts/carriers that go on the back of a car.
My latest trailer was for my brother, He went shopping around for one but they wanted $900 and up, He found a pic of what he wanted on the net and I built from that pic. When this one was all said and done it came in at $375.
http://i107.photobucket.com/albums/m...g?t=1219013683
This is my most prized build.....
My boss bought this;
http://i107.photobucket.com/albums/m...g?t=1219011064
He needed some way to get it into his hanger and back out to the tarmac for take off. He came out of his office with this pic;
http://i107.photobucket.com/albums/m...g?t=1219011363
Said they wanted $8500 for it, He asked me if I could build one. So, I jumped at the challenge and said sure. Took the pic and got measurements of the chopper frame and whipped this one up;
http://i107.photobucket.com/albums/m...g?t=1219012539
http://i107.photobucket.com/albums/m...g?t=1219015405
http://i107.photobucket.com/albums/m...g?t=1219015484
http://i107.photobucket.com/albums/m...g?t=1219015550
Most all of the mechanical parts were purchased off Ebay and total investment came in at $1200, He has had several people at air shows ask if I'd build them one, I told him no. I met the challenge head on and there would be none in building another.
Sorry for babbling on......
Good luck in getting your wench set up the way you want and happy flying !!!
Cya
08-17-08, 11:47 PM
The dodecahedrons and icosahedrons were for decorations (and for showing off my skills with TIG). We have some in our house, and my welding instructor got the one I donated for a charity auction at the school.

That transporter is great. What a neat project!! Thanks for sharing the pics and story.