Honda Lawnmower
10-16-08, 10:15 AM
Join Date: Jun 2002
Location: Oklahoma City, Oklahoma
Posts: 129
Received 0 Votes on 0 Posts
Honda Lawnmower
---
I have a 15 year old honda mower (HR215SXA)with a bad engine I love the deck design. I was told to rebuild the engine would be more expensive than installing a new engine. Where can i find a new engine that will bolt up to my deck, i was told these were pretty easy to install. Thanks
10-16-08, 05:41 PM
For a bolt on replacement, I would have to suggest a Honda Lawn Mower Dealer. I have never seen Honda engines for Honda Mowers available anywhere else. This mower has a very specific engine that will accept a blade clutch and a shaft driven pto for the self propel.
10-16-08, 09:01 PM
I agree. What's wrong with the original engine? Smoking? Usually that's the case with hondas, and if so, they usually only need rings to remedy the problem. A set of rings, sump cover gasket, head gasket, oil, and a few hours one saturday could be all you need to make yours good again.
10-20-08, 05:24 AM
Join Date: Jun 2002
Location: Oklahoma City, Oklahoma
Posts: 129
Received 0 Votes on 0 Posts
I ran it low on oil and it got very hot, still runs though. Are these OHV engines pretty easy to work on. I just figured after 15 years of good service i would treat it to a new engine as opposed to buying a new mower. I don't think the new decks have the pick up power this one has.
10-23-08, 11:31 AM
Pretty easy to work on. I'd tear it apart and replace rings and gaskets as long as crank and cyl is OK. Or look for a used unit with a bad deck. I agree they are an awesome mower, not built like the newer ones. Good luck.
03-21-09, 04:53 PM
Honda HR 194 SX
---
This lawnmower has treated me good for 10+ years and still has a little life in her. The problem is she starts and will run in choke but when I go to put it into gear it dies. I have cleaned the carb, fuel filter, replaced the plug and still nothing. I don't know what to do next. Any suggestions?
03-21-09, 05:24 PM
Did you remove the main jet and make sure it was fully open ?
It's in the center where the float bowl screw goes.....
You may want to check valve adjustment as well, Rotate the engine to top dead center compression stroke then remove the valve cover. Intake should be .004" and exhaust .006".....
Here's a small diagram;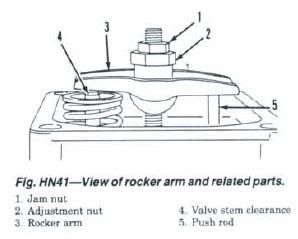 Good Luck
---
Last edited by 31YTech; 03-21-09 at

05:44 PM

.
03-21-09, 07:23 PM
I agree. Strip the carb and remove the main jet with the nozzle. Make sure both are squeaky clean, I cleaned mine very gently with a welding tip cleaner.That and valve adjustment you should be good to go.
I bought mine for 50 bucks, the owner thought the engine was seizing and did not want to spend money on an old mower. I cleaned the grass out of the clutch, best mower I have ever owned.