Tecumseh "Snow King" H70-130006 condenser wire?
12-21-08, 10:55 AM
Join Date: Dec 2008
Location: New England
Posts: 2
Tecumseh "Snow King" H70-130006 condenser wire?
---
Hi--I'm a first-time poster (but not a poster-child for anything!
). Indeed, I'm not a child. I'm a young 70.
On my old Ariens Sno-Thro I have a 7 HP H70-130006 engine, serial # 8171 06717.
It ran fine; then crapped out in midst of 10" snow storm (of course!).
Did everything right trying to restart (el. starter): not even a cough. Drained carb. Nothing. Then, when I took off the carb. heater box, I noticed a severed white wire sticking out between the magneto/flywheel and engine housing. So far as I can tell, after I removed the rear engine housing (w. coil starter), it's from the condenser. No wonder I didn't even get a cough out of the engine!
Sooo, my questions:
1. Where does the top end of the wire attach? I can't see where it severed from.
2. Can I clean off its end and re-attach it, or should I just get a new condenser (with attendant delay)?
3. Can I fix this w/o removing the magneto?
Note: Installed new short block (w. neighbor's help) way back, probably late '70s.
I'd be tremendously grateful for any clues.
Klutz
Sponsored Links
12-21-08, 12:15 PM
Join Date: May 2006
Location: Iowa!!!!!
Posts: 3,728
A condenser wire on a point/condenser ignition goes from the condenser to the points. The points and condenser is usually mounted under the flywheel. The other wires on that setup goes from the points to a kill switch and another from the points to the ignition coil which picks up a magnetic field off the flywheel.

The wire you have is likely a wire to a kill switch or a wire to the coil. I remember the wire from the coil as being black and the kill wire as white (could be wrong on that count, though). The condenser and its wire is completely under the flywheel.

Reattaching everything would be subject to how well you get it done. The flywheel would have to be removed to access the points/condenser. The point/condenser package is around $12.00. If you can wait to get a new one, I would do that. If you're in a pinch for time, I would patch the old one until you get some wiggle room.
12-21-08, 01:57 PM
Join Date: Jan 2007
Location: MA
Posts: 514
The white wire is on the H70's is usually the kill wire to the stator. By being severed, the engine should run but you would be unable to shut off engine. Under the flywheel it connects to the point terminal with the coil and condenser wire. Is it possible it is grounding somewhere? This would cause a no spark situation
12-22-08, 01:45 PM
Join Date: Dec 2008
Location: New England
Posts: 2
Many thanks.

My problem is I wouldn't know where to attach it even if I patch it, by which I suppose you mean cut off the end, clean it up, and attach to new eye connector? Nothing shows where it got severed from. I didn't call myself klutz for nothing! If it IS the wire to a kill switch, that would be interesting as this Tecumseh isn't equipped with one . . . So I'm still stumped; don't know what to do next.

klutz
12-22-08, 06:04 PM
Join Date: Dec 2008
Location: Carleton Place
Posts: 156
It may not be a kill switch on the motor itself, you say it's an old ariens- old ariens had an on/off switch mounted in a plate between the handles. Newer kill switches are built into the throttle, move throttle down to the lowest position and it grounds, like a knife switch. All motors have some sort of "off" switch be it with a key or throttle, how else besides yanking the coil wire off would it work?
12-22-08, 07:55 PM
Join Date: Jan 2007
Location: MA
Posts: 514
If you have a set up similar to this, look at the arrow. On the underside there is a male spade that the "kill" wire connects to. When the throttle is pulled all the way back and makes contact with it, it grounds out the coil. Most likely if you look underneath you will see the female connector still attached and that is where the wire broke.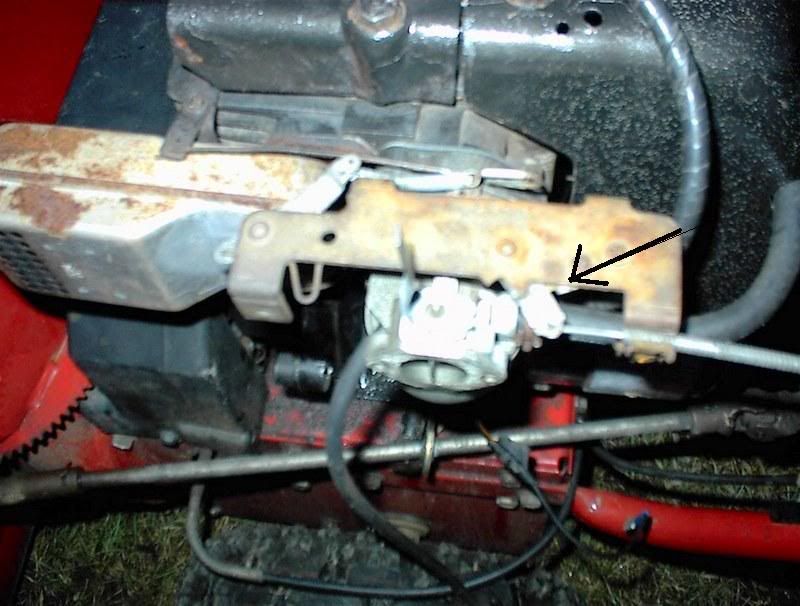 Posting Rules
You may not post new threads
You may not post replies
You may not post attachments
You may not edit your posts
---
HTML code is Off
---