Craftsman LT1000, flywheel hard to turn by hand
02-16-09, 10:49 AM
Join Date: Feb 2009
Location: USA
Posts: 3
Upvotes: 0
Received 0 Upvotes on 0 Posts
Craftsman LT1000, flywheel hard to turn by hand
---
Craftsman LT1000 riding mower (Model No. 917.273399), 17.5hp-18.5hp Briggs & Stratton 31P777 engine. When the key is turned to start, flywheel spins 1 time, gets stuck for a half to full revolution, spins 1 time, gets stuck for a half to full revolution, and continues this cycle.
With the starter off the flywheel ring, I tried turning it by hand and same results. It feels like there's about 2 or 3 "gummy / rubber" -tensioned areas inside the engine, and they're a little tough to pull through so I can see why the starter would have problems turning this.
It's not a full stop, but a gummy-like tension where if you turn it an inch and let it go it'll go back an inch in the other direction.
It did go low on oil at one point, but was refilled and does not feel nor sound like there is any metal grinding against each other.
I checked underneath and it's not the drive nor mower belt that is giving it this resistance at all.
All in all, this resistance prevents the engine from gathering enough speed to start. Jumping with a big rig gives the starter enough juice to overcome the resistance and start (not always on the 1st try though, but its stronger).
Another observation while running, is that at low rpm it sputters like something is wrong, but it's completely fine at high rpm. So I suppose whatever it is, it's putting stress on the engine even while running.
Any ideas on what it could be?
Link to the B&S 31P700 series illustrated parts list.
http://www.briggsandstratton.com/pdf...100/MS5766.pdf
B&S 310000 series Owner's manual.
http://www.briggsandstratton.com.mx/...--Domestic.pdf
02-16-09, 01:29 PM
Join Date: Jul 2006
Location: Central New Hampshire
Posts: 658
Upvotes: 0
Received 0 Upvotes on 0 Posts
Pop off the flywheel and check the key. Sounds like the key is cracked or broken. A broken key will move the timing quite a bit making the plug fire when the piston is on the up stroke when it should fire at or just before Top Dead Center. Plug firing while the piston is trying to go up and the spark plug firing pushing it down.
02-16-09, 07:21 PM
Check valve clearance with piston ¼ inch past top dead center. Too tight clearance results in high compression and symptom as you describe.

Intake 0.003 - 0.005 inch
Exhaust 0.005 - 0.007 inch
02-16-09, 08:55 PM
Join Date: Jul 2001
Location: USA
Posts: 15,794
I agree... adjust the valves and you'll be set to go.
04-16-09, 04:39 PM
Join Date: Feb 2009
Location: USA
Posts: 3
Upvotes: 0
Received 0 Upvotes on 0 Posts
Thanks everyone! Sorry for the delay. Adjusting the valve clearances solved the problem! It cranked with a little tug afterwards but not nearly as much as before. Adjusted the clearances again eliminated the tug completely and now it purrs. Thanks so much.
In case it helps anyone else out... I've encountered another problem. After 2 day's worth of mowing, I throttled down the engine and it began sputtering like crazy. Inspected the head again and found that the top halves of BOTH rocker arm nuts broke off.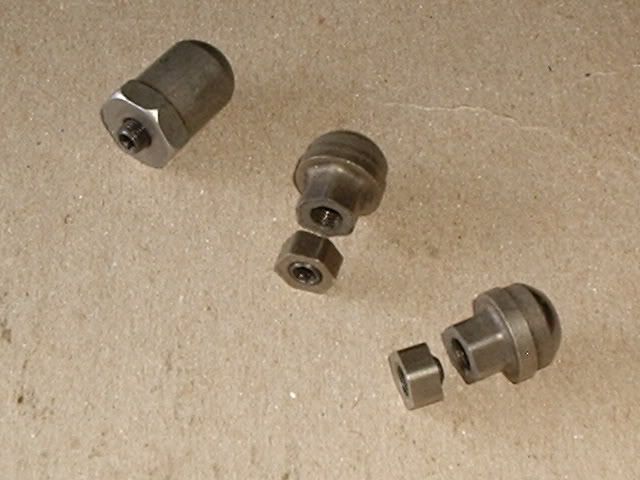 I did put them pretty tight to get the required valve clearance, but didn't adjust the star screw in the center. I thought it was all part of the nut so tightening the nut was the only thing I did. I should have used the star screw to lock the adjustment in place. The big one at the top of the pic is one of the new ones I bought. Also discovered that the intake push rod was slightly bent, but I straightened it with a mallet. The exhaust push rod is fine.
Again, thanks.
03-26-10, 07:59 PM
starting hesitation, blowing white smoke
---
Had similar problem where engine would turn and then hesitate. Thought problem was starter, pulled it, touched terminals to battery and it spun no problem(of course clamp down when doing this).

Frustrated, so I searched and found this post.

Adjusted valvle clearance using the following procedure and works perfect!

1. drained oil(not sure if you have to do this but it needed it anyway) and cleaned off head w/ engine degreaser and compressed air. you don't want this junk getting in engine.

2. turn flywheel to TDC on compression stroke. actually had pulled valve cover and head to expose cylinder, piston and valves. this allowed for valve, valve seat and cylinder inspection. all checked out ok. while off, rotated flywheel until piston was at TDC and made mark on flywheel & chassis. maybe there's a better way but that's what i did. put head back on w/ new gaskets. turned flywheel to previous mark watched valves to make sure it was after compression stoke. can tell this w/ sequence of intake valve(bottom valve) depressing, then raisiing until you hit mark.

2. set intake valve clearance to .005" and exhaust valve clearance to .008". used star tool to loosen inner star screw and then finger loosen vavle adjustment screw. put gap tool in place, finger tightened until pretty snug, then tightened up star screw which just barely backed off the snugness on the gap tool.

3. reinstalled valve cover & fired it back up w/ no problems at all.
03-28-10, 08:56 PM
Join Date: Oct 2007
Location: ontario,canada
Posts: 286
Upvotes: 0
Received 0 Upvotes on 0 Posts
don't think it was made clear that the bad valve clearance on intake (too much) means the compression release no longer functions and that's why it wasn't turning over right.
04-23-14, 08:04 AM
Join Date: Apr 2014
Location: United States
Posts: 1
Upvotes: 0
Received 0 Upvotes on 0 Posts
Please help!!
---
I am having the same issue. I adjusted the valve clearance a few weeks ago and it started and ran fine. About 2 days ago my daughter was riding the mower and instead of turning the ignition off she got up and the seat switch killed the motor. Every since then the mower will not start. I tried re-setting the valve clearance and still no luck. Here's a list of the symptoms and things I've checked so far.

New Ignition
New solenoid
Took starter off and tested just fine
charged battery
When I turn the key the motor turns about half and seems to get stuck? Like it has WAY too much compression, When I take the spark plug out it turns just fine. Like I said earlier this happened before and I adjusted the valves and it fixed the issue. I'm not sure why my daughter killing the mower that way would cause this issue? Any advice or help would be GREATLY appreciated. Bellow are the mower specs.

Craftsman DLT 3000
19.5 HP Briggs and Stratton
Model 31P777
Type 0296 E1
Code 050519ZD
04-23-14, 06:28 PM
Join Date: Jul 2001
Location: USA
Posts: 15,794
Check for gas or oil in the cylinder (wet spark plug). If none, check valve operation to see if the compression release is bumping the valve open a hair just before TDC.