Toro Personal Pace repair
05-28-09, 05:14 PM
Join Date: May 2009
Posts: 2
Received 0 Votes on 0 Posts
Toro Personal Pace repair
---
I bought a Toro Personal Pace model 20017 about 6 years ago. I noticed that the last couple of seasons the self propel mechanism has no power. If I lift the rear wheels up and push down on the lever the wheels will spin but there is no power when doing actual mowing. I went to parts tree and purchased a new transmission assembly and new gears for the end of the shaft. I also replaced the belt but still do not have any power. I adjusted the line from the lever to the trans. and this still did not make any difference. I have noticed that it has been making a growling noise at times, especially when power is needed. Should I replace the pully above the blade and if so how difficult is it to do so. I have already invested about $60.00 in it and would not mind ordering the pully if it is not to difficult replace. This would still be cheaper than getting a new mower. On the other hand, if this will not fix it I do not know what else I can do.
Sponsored Links
05-28-09, 08:59 PM
Replacement of the crank pulley I feel will get you no where, I would suggest looking closer at the axle key #15 for worn rounded edges and spring #14 for rust/weakness reducing key pressure inside #4 pinion gear.
Also check the teeth on #4 pinion gear for wear as well as the teeth inside the rear wheels, I have seen the rubber tire spin on the plastic wheel in the past and cause lack of drive power as well.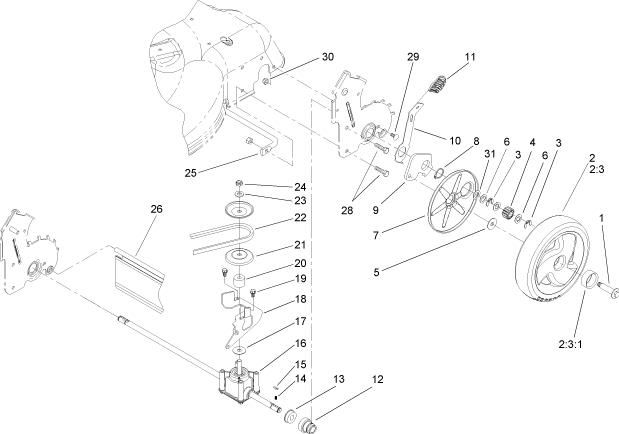 Good Luck
05-29-09, 11:13 AM
Join Date: May 2009
Posts: 2
Received 0 Votes on 0 Posts
response
---
The axle keys and springs both seem to be functioning correctly. I have replaced the pinon gears on the end of the shaft with new gears and the wheels gears seemed be great shape. The axle key did not appear be rounded and when placed into the axle with the spring had no problem.

But if this is the problem, why would I be getting a growling noise when their is a need for power in the self-propel system? I do not understand why that would cause a growling noise. I am not questioning your judgment but just seeking answers. The mower is otherwise in excellent condition and I hate to buy a new one now. Any other ideas?

Lou
Posting Rules
You may not post new threads
You may not post replies
You may not post attachments
You may not edit your posts
---
HTML code is Off
---