Craftsman Lawn Tractor sloppy loose steering
06-02-09, 03:44 AM
Join Date: Nov 2008
Posts: 5
Craftsman Lawn Tractor sloppy loose steering
---
I have a Craftsman 917.271851 with sloppy steering. When I turn the wheel I can see the gear on 17 move a bit before 71 moves at all. How do I fix it?
Here is the steering assembly drawing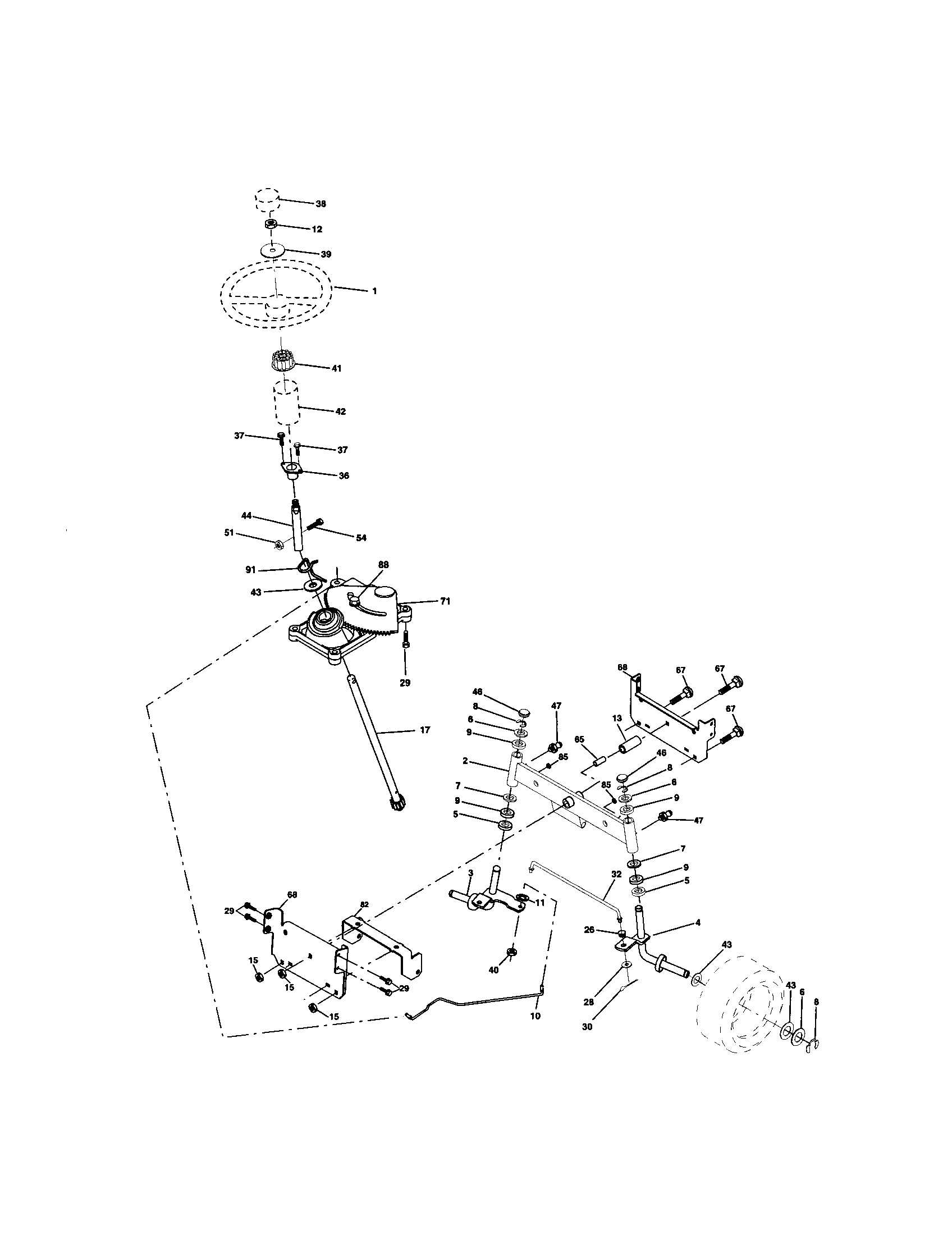 Thanks,
TBOD
Sponsored Links
06-02-09, 05:32 AM
Join Date: Feb 2008
Location: usa
Posts: 755
06-02-09, 05:58 AM
Join Date: Nov 2008
Posts: 5
Thanks Airman. What should I look for? Which fastners should I check in that diagram? Should I just replace 7 (or 17 below)?
Thanks again for your response.
TBOD
Originally Posted by
Airman
06-02-09, 01:25 PM
Join Date: Nov 2008
Posts: 5
A little more info:

I tightened up 51/54 and it helped a bit.

When I move the wheel I notice the gear of 71 seems to move up a bit before it turns begins to turn. None of the gears of 17 or 71 appear damaged or obviously worn.

I tried tightening 88 hoping it would keep 71 from riding up but I could not get it to budge.

Thoughts?
06-06-09, 09:49 AM
Join Date: Nov 2008
Posts: 5
Can anybody give me some direction?
06-06-09, 10:51 AM
Banned. Rule And/Or Policy Violation
Join Date: May 2007
Location: Wisconsin
Posts: 8,629
I looked at a few new Craftsman models yesterday on the showroom floor, and on the $984 17 1/2 horse 42 inch cut 6 speed, I sawed the wheel about 1/2 inch estimate. Yet on an even more expensive model, I found myself sawing the wheel about 1 1/2 inches or so. I could actually see the linkage mechanism nosedive under pressure before the wheels started to turn.

Seems sort of junky to not have 100% lockup between steering wheel and tires.
06-06-09, 10:52 AM
Don't know as I have worked on this new craftsman steering assy, but it looks like the old MTD setup of sorts.

If all bolts are tight I can only imagine bushings have either worn or the chassis or assy where the bushings seat have worn. The pivot point for 71 (Sector gear...?) would be my point of suspect.
06-07-09, 06:40 AM
Join Date: Feb 2008
Location: usa
Posts: 755
Sorry for the delay in answering back. This is a terribly busy time of year for me.

Check the gear for excessive wear.

Check all fasteners for looseness.

Look for up and down movement of Key Number 17, Part Number 177883 Steering Shaft Assembly and Key Number 71, Part Number 175146 Steering Assembly.
Inspect Key Number 44, Part Number 180640 Steering Shaft Extension, Key Number 36, Part Number 155099 Steering Bushing and Key Number 41, Part Number 100711L Steering Wheel Adaptor for wear.

To find your problem you will have to look closely at each of these parts.
Posting Rules
You may not post new threads
You may not post replies
You may not post attachments
You may not edit your posts
---
HTML code is Off
---