Problem with PTO clutch on Honda HT3813
06-05-09, 01:03 PM
Join Date: Jun 2008
Location: GA
Posts: 150
Problem with PTO clutch on Honda HT3813
---
When engaging or disengaging the PTO clutch at low speed, the engine stalls.

It appears the blade brake isn't releasing completely before the clutch engages, and the clutch isn't disengaging completely before the blade brake is engaged.

The only adjustment I can see is on the outer part of the clutch cable where I attaches to the bracket next to the battery. Adjusting that didn't solve the problem. It only sets the free play in PTO clutch control lever.

How can I get the PTO clutch to operate without stalling the engine?

Roger
Sponsored Links
06-05-09, 02:39 PM
Roger,
If the clutch can be adjusted to solve the problem this should cover it;
Good Luck
06-05-09, 04:37 PM
Join Date: Jun 2008
Location: GA
Posts: 150
My tractor doesn't have that adjustment. Is there a fix?

Roger
06-05-09, 06:02 PM
Sorry Roger,
I didn't remember there were two style clutches depending on unit serial number. I went back to my service manual and found no mention of this non-adjuster style clutch, It has been many years since I last worked on one of these and my mind is drawing a blank.
Looking at the parts breakdown the only part that
may
cause this is #16 clutch spring (loss of spring tension), But that is only my
guess
without seeing yours up close and personal.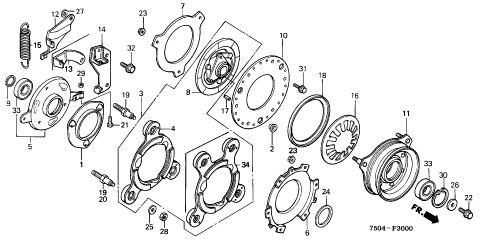 Sorry again I'm not more help, Maybe someone that has worked on one recently will chime in and lend you a hand.
Good Luck
06-05-09, 06:48 PM
This may sound stoopid on my part,,,, But at slow speed, is there enough horsepower to spin up all the blades & belts & stuff??? I know on my tractor it kills the engine if you engage the blades @ 1/2 throttle or less...If it's always been like that,, only engage the blades @ high RPM,, If not it may even be a carb problem.....Roger
06-05-09, 07:27 PM
Good point Roger,

It's also possible it's only running on one cylinder (fouled/bad plug) ?
06-05-09, 11:08 PM
Join Date: Jun 2008
Location: GA
Posts: 150
I don't have the mower deck installed, and the engine is running fine.

I just bought the tractor. It had been sitting in a barn for five years. The previous owner had just parked it after the starter quit working. He had removed the mower deck to use the tractor for pulling a cart around. I'm in the process of checking it out after fixing the starter and getting it running again.

I'll just wait and see how it works when I put the deck on.

Roger
01-08-15, 03:32 PM
Join Date: Jan 2015
Location: Australia
Posts: 2
HT 3813 Clutch/Brake assy problem.
---
I have a similar problem with mine also.

When I disengage the cutter head drive the clutch and brake both seem to be engaged so it stalls the engine.

Prior to that I was getting a strange, faint smell like something overheating.

I now realise it was the disc pad assy that was failing!

My clutch assy also doesn't seem to have any visible adjustments!

Can anyone offer any advice?

Thanks
Pete
01-08-15, 04:20 PM
I'm reaching way back to remember this system. I worked on a few and had this problem on one. I believe the problem was with parts number 1 and 5 in the diagram above. I think the steel balls that roll had worn notches in plate 5 causing some issue with one not releasing as the other did or something along those lines. I just can't remember, but it had to do with those parts.

Those were awesome mowers. So quiet and smooth, but parts are high as heck and some are no longer available. The few that still exist that I've seen were stripping out timing belts and in need of water pumps, so that might be something to consider when weighing whether it's worth the cost of repair or not.
07-11-15, 04:34 AM
Join Date: Jan 2015
Location: Australia
Posts: 2
Thanks a heap, I'll have to look into that fairly soon.
Sorry for the late reply, I've been rather ill since I posted in January.
Curious I didn't receive any email notification?
Thanks again!
07-11-15, 08:26 AM
Bodgie, you have your settings set on "Do Not Subscribe", so you won't get any email notifications.
You need to go into your General Settings to change this.
Go up to "Forum Actions", "General Settings", scroll down to Messaging and Notifications and pick one of the email options.
Posting Rules
You may not post new threads
You may not post replies
You may not post attachments
You may not edit your posts
---
HTML code is Off
---