Axle boot replacement Snapper RER
07-02-09, 11:42 AM
Join Date: Jul 2009
Location: South Carolina
Posts: 2
Axle boot replacement Snapper RER
---
I read the one year old posts from Cheese regarding the
replacement of Snapper RER alxe boots. I jumped into
it today and have the wheel, hub and left side fender off.
I am now stuck on how to get the small chain drive off.
I see what looks like a ball and socket connection but
am now sure how it comes off. It only spins when I
turn the nut. I see how the cable (brake?/Clutch?) is
removed. Advice appreciated.
This mower is about 9 years old.
---
Last edited by chapinjohn; 07-02-09 at

11:44 AM

. Reason: ADD
Sponsored Links
07-02-09, 05:48 PM
chapinjohn,
There is a hex where a wrench can be slid between the link rod and this "ball and socket connection" to hold it from spinning so the nut can be removed.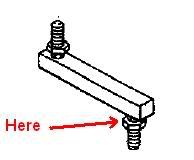 Good Luck
07-02-09, 10:03 PM
Yep, it takes a 7/16" wrench to hold the back side of the ball joint.

Once you get the cable off and the ball joint off, you can slide the small chaincase to the right. Rotate the plate at the bottom that holds pressure on the chaincase until the rod is able to slip out of it. You may have to lift up on the axle a good bit. This will allow you to get the chaincase out and slide it all the way off the axle.
Posting Rules
You may not post new threads
You may not post replies
You may not post attachments
You may not edit your posts
---
HTML code is Off
---