Craftsman 15.5, 42"Mower Model 917.271024
07-14-09, 01:07 PM
Join Date: Jul 2009
Location: United States
Posts: 1
Craftsman 15.5, 42"Mower Model 917.271024
---
Dear Sir, I'm writing because I have spent at least $300.00over a short period of time repairing my tractor for the same problem. Hope you can help. When I try to disengage the mower blades using the "attachment clutch lever" it will only go half-way down, therefore not allowing the blades to stop properly. My mower is in the back yard, I can't start it because the blades are engaged. Is there a simple trick, a spring, or something I can do? Need Help!
Sponsored Links
07-14-09, 02:58 PM
You should take a look at the below;
Most people mow then when finish park their mower leaving grass clippings on top of the deck. These clippings hold moister and rust/corrode moving parts on top of the deck.
Un-hook the engagement rod from the back of the deck that goes to #55 idler pivot plate, Make sure this #55 pivot plate moves freely.
Also, Check the blade brake arms #53 and rollers #49 for free movement. Clean/lubricate all moving/pivoting parts on top of the deck then check your engagement lever assembly lubricating it as well. Make sure there are no bent/worn link rods and straighten/replace as needed.
There really isn't that much to this style pto system so I believe performing the above should solve your problem.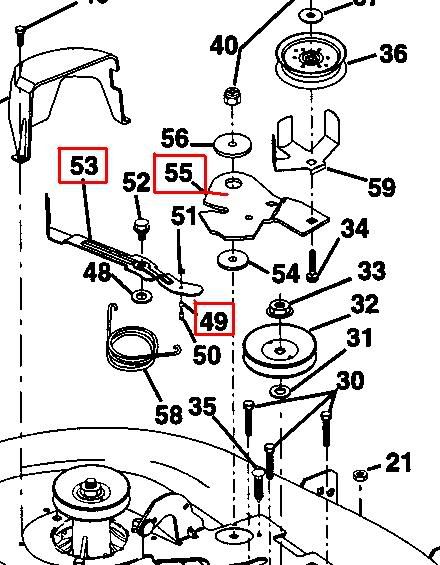 Good Luck
07-14-09, 10:29 PM
31yeartech nailed the problem. I see this problem often and it usually costs less then $50 to repair it. Rollers #49 are usually the problem. They should spin freely. #55 should rotate easily too. Rust and clippings piled on the deck usually causes this.
Posting Rules
You may not post new threads
You may not post replies
You may not post attachments
You may not edit your posts
---
HTML code is Off
---