Change Belt in 1995 Craftsman EZ3 15.5 hp
08-16-09, 03:35 PM
Join Date: Aug 2005
Location: Dracut, MA
Posts: 169
Change Belt in 1995 Craftsman EZ3 15.5 hp
---
Can anyone give me at least a high level overview of the process to change the V belt for my mower? Also, does anyone know where i could get the manuals for this mower?

I just purchased this tractor and the mower deck needs some love. The belt is visually loose which I'm hoping explains the nasty squeal when the deck is engaged and in use. I'm a fairly handy person and am going to attempt to change the belt myself. I have never worked on a tractor before and I donít have any manuals so I will be "feeling" my way through - any help/pointers would be greatly appreciated.

the model number is: 917.256520
Sponsored Links
08-16-09, 06:15 PM
Deck belt replacement is easy on this unit, Just remove the spindle cover from the left side then route the new belt on making sure you get it between all the guides and pulleys.
Check/clean and lube the items in red making sure they move freely, If sticking they can effect belt engagement/dis-engagement. #49 is a roller which should spin freely.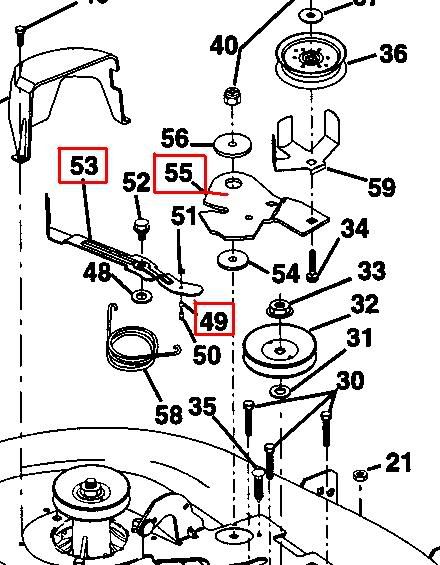 Not sure where you would find a user manual for this one, I couldn't get your model number up on the Sears website.
Good Luck
08-21-09, 04:29 PM
Join Date: Aug 2005
Location: Dracut, MA
Posts: 169
Thanks 31Ytech - great info! I'm going to take the deck off tonight and inspect the baldes as well. Can I use a grinder to sharpen them or should I bring them some where to be sharpened?
08-21-09, 05:35 PM
Join Date: Aug 2005
Location: Dracut, MA
Posts: 169
Two spin freely, the other two - not so much
---
Wow you weren't kidding 31YTech - that was easy! Took 30 minutes max to get it off. Everything with the exception of the two pulleys/wheels for the blades seems to spin freely. They spin but not nearly as freely as the other two. Should they?
08-21-09, 05:48 PM
No, The blade pulleys have the brake pads rubbing on them. If you had engaged the deck with the belt off they then should spin freely.
You can sharpen the blades yourself but it's better to have them done at a shop and have them balanced as well.
This belt can be installed without removing the deck from under the machine.....
08-22-09, 04:20 AM
Join Date: Aug 2005
Location: Dracut, MA
Posts: 169
It was making some really nasty noises and not cutting well so I figured I would sharpen the blades, change the belt and give the deck a once over.

Thanks for all the help!
Posting Rules
You may not post new threads
You may not post replies
You may not post attachments
You may not edit your posts
---
HTML code is Off
---