Yard Machine Leaking Oil
08-24-09, 02:24 PM
Join Date: Aug 2009
Posts: 2
Yard Machine Leaking Oil
---
Hello,
I have a Yard machine 41M with a 1p65 engine. I bought it last year. While on a military deployment my father in law mowed my grass with it and said it started to leak oil. When I returned home I noticed that he was correct as you could run the engine, but there was a steady oil leak. So much so that whatever oil you put in at the start was almost all gone after about 20 minutes.
The leak appears to be at the base of the cylinder head as the whole cylinder head was caked in oil. I pulled off the cylinder head and the two gaskets appear to be fine. I'm wondering if its the gaskets or what. I don't want to pay $30 for the gaskets on a $100 mower if it turns out to be something else. Here is some pictures of the cylinder head where it was leaking from if it helps.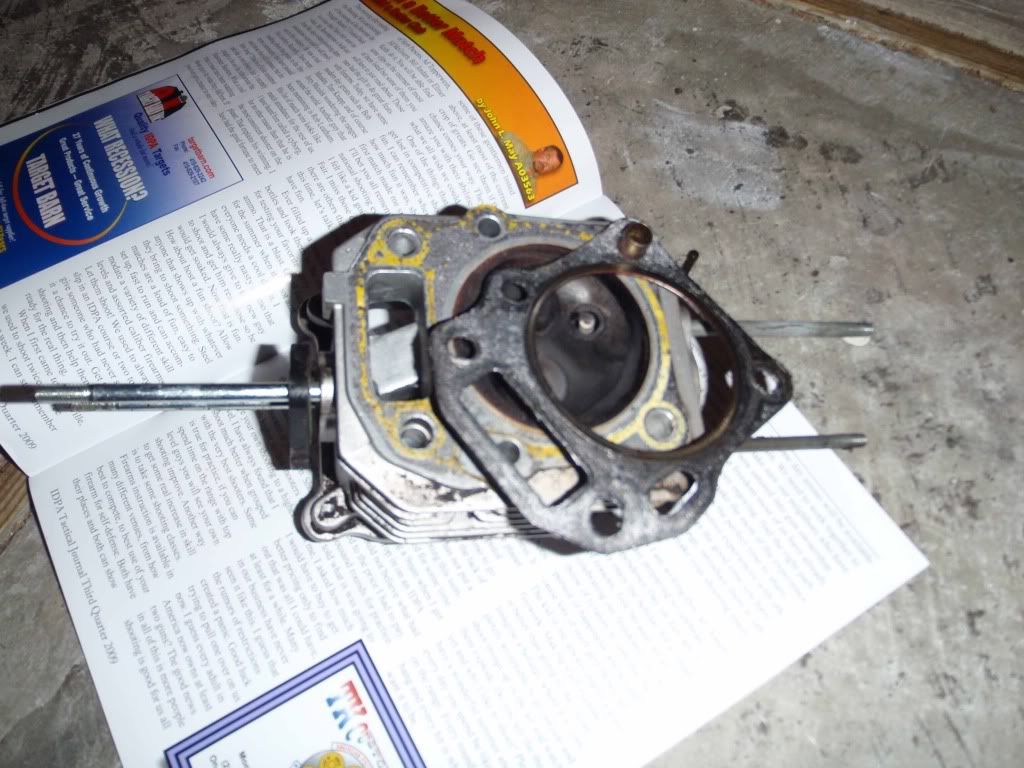 Sponsored Links
08-24-09, 02:36 PM
Hmmm, The head gasket appears to be fine. I'd take a close look at the sump/pan gasket right under the cylinder, That's the most common place the sump/pan gasket leaks.....
08-24-09, 05:32 PM
Join Date: Aug 2009
Posts: 2
Forgive me, im not to mechanically inclined. Is the sump pan(I assume thats the oil collection?) by the short block? That is to say do I need to remove the short block to get at that part?

The leak appears to be around the area of the cylinder head as that is the only part that is coated with oil. Which seems strange to me as I didn't think alot of oil flowed around that part?
08-24-09, 06:06 PM
Oil does go through this gasket to get to the valves. The gasket doesn't look bad though, hard to tell by the pics.
08-24-09, 07:05 PM
By the appearance of the head gasket and what appears to be possibly oil running down the pan is what I based my opinion on;
The gasket can leak and crankcase pressure can blow the oil onto the bottom area of the head/cylinder.
Gasket in question;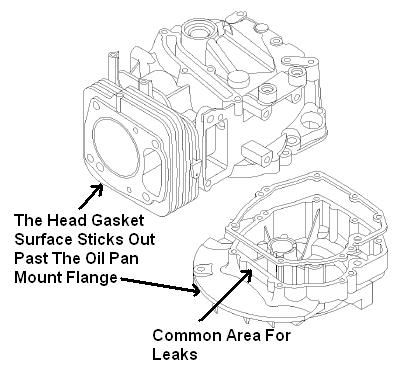 Just raise the front of the machine and look under the cylinder, If the gasket is in it's proper position you should see it between the pan and block. If there's any area you can't see the gasket chances are it's blown.
Good Luck
Posting Rules
You may not post new threads
You may not post replies
You may not post attachments
You may not edit your posts
---
HTML code is Off
---