5HP Briggs N Str - 500 Series 158cc
10-07-09, 06:21 PM
Join Date: Oct 2009
Location: usa
Posts: 3
5HP Briggs N Str - 500 Series 158cc
---
My Mower Will Not Stay Running or it runs wide open. The Springs Have been replaced-May not be right though. It seems to be simple but I be danged if i can get it to run right. This mower should "use to" adjust throddle as it cut into thicker grass as well as lower rpms in thinner grass.
WHAT IS THE PROBLEM? What am I missing.. It's crazy
Please helppppppp meeeeee... lol
Sponsored Links
10-07-09, 06:48 PM
You think the springs may be the wrong springs, or not installed in the right places, or both? Is the governor linkage connected? Does the governor offer any force to close the throttle when it revs up fast?
10-07-09, 07:02 PM
Join Date: Oct 2009
Location: usa
Posts: 3
500 Series Briggs 3040rpm
---
My motor either runs wide open or shuts down or both. This is a simple carb-What is it that could be doing this? I replaced the springs-could they be too loose or is it eternal? Governor?
Tell me how to fix this please.
In addition this mower actually gains rpms in thick grass and reduced in thinner on it's own----No throddle---
Well use to do that..HELP Please
---
Last edited by cheese; 10-07-09 at

07:09 PM

. Reason: removal of email address and request for email response
10-07-09, 07:14 PM
I replied to your last thread, then you started another. Please use the "reply" button to reply to your original thread instead of starting a new thread each time. I merged your new thread with the first one to which I've already replied.
10-07-09, 07:54 PM
Join Date: Oct 2009
Location: usa
Posts: 3
Well thee linkage is foreign to me so that is an option-
No the Mower will not shut off when it revs up. Actually when I release the emerg bar/handle the mower takes up to 30secs to a minute to shut down- Now that you bring that up.
Springs are definetly not the right one's But the springs are just to prevent shutting completely down and the other to prevent going wide open. I feel strongly that I have the springs in atleast a position to not go from extream to another- I may be wrong.
So there is a linkage? Is that the bar that comes out to recieve the springs and control to throddle bar?

First Thanks for your prompt response-
2nd The additional post was not purposely and if you knew what me computer does sometimes---Thats another story..lol
I appolagize for the duplicate
10-08-09, 05:26 AM
Join Date: Feb 2008
Location: usa
Posts: 755
Post the engine model, type and code number.
10-08-09, 09:23 PM
I understand completely about the computer thing, lol.

The springs are more important than you think. They have to be exactly the correct length and tension. Any variance from original can cause all sorts of problems like over or under speed.
10-09-09, 09:47 AM
Join Date: Jun 2006
Location: St. Louis
Posts: 2,365
If you have the engine with the carb setting on top of the fuel tank your linkage should look like the picture below. Have a good one. Geo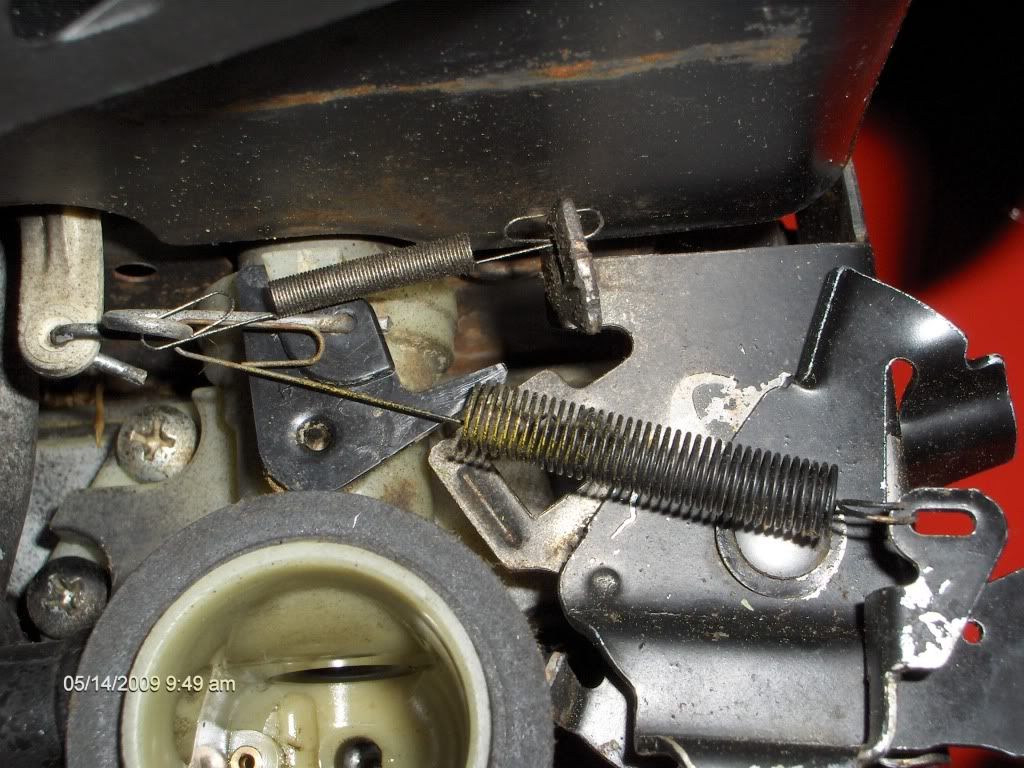 10-09-09, 09:53 AM
Join Date: Jun 2006
Location: St. Louis
Posts: 2,365
If you have the engine with the carb setting on top of the fuel tank and the engine is "surging", reving up and down then;

You need to install a new diaphram kit, it is Briggs part # 795083 or old # 495770 also Lowe's has a kit #5083 which has the same parts.
Here we go;

Remove air cleaner, there are 2 bolts that hold things together, one on the front of the tank 3/8" and one into the block 1/2", remove these bolts, now "slowly" slide the carb/tank off the intake tube and breather tube, now tilt the tank in to release the throttle linkage and waalaa the carb/tank is removed. Check the intake tube to see if the "O" ring seal and plastic retainer are still on the intake tube, if so remove them and re-install them into the carb. Remove the 5 screws from the carb/tank remove carb(don't loose the spring) now spray all holes, cracks and crevases in both the carb and tank surface with brake parts cleaner, remove the main screen(looks like a thimble), now with a small screwdriver pry out the main jet(carefully) and clean it, check the "O" ring on the main jet for damage, if it is damaged it must be replaced, reinstall the jet, it can be difficult some times to get it to snap back in place(I use the rounded end of a screwdriver handle). Remove and clean the fuel pickup stem(not necessary if the fuel tank was clean). Clean any junk/rust from the tank. Install the diaphram on the tank then the gasket(no goo or sealer) now carefully replace the carb(the spring will try to misalign the diaphram), tighten all screws a little at a time so as not to crimp the diaphram until they are all tight. Install the carb/tank in reverse order and you are done. If I missed something one of the real mechanics will correct me. Have a good one. Geo
Posting Rules
You may not post new threads
You may not post replies
You may not post attachments
You may not edit your posts
---
HTML code is Off
---