Craftsman LT1000 transmission making noise then goes
02-16-10, 07:56 AM
Join Date: Feb 2010
Posts: 2
Craftsman LT1000 transmission making noise then goes
---
I have a used Craftsman LT1000 20 OHV V-Twin
Model 944.602892
I use the snow blower attachment as I have a big driveway, this is the 3rd year using it, works good, I just don't over stress it. I keep it in a heated garage, just above freezing.
I have noticed lately after I start it up, warm it up, then when I shift into gear it makes a loud noise and does not move... I put it back in neutral and try again, after a few times with the noise it starts to move OK without any issues... what should I check? I have heard that these hydrostatic transmissions are sensitive and I want to fix the problem before it gets worse. Any help would be appreciated, I have a good mechanical aptitude.
Sponsored Links
02-16-10, 03:00 PM
Join Date: Jun 2006
Location: St. Louis
Posts: 2,365
Post the transaxle manufacturer and model number.
The problem could be you are not making sure the transmission and pump are engaged after you have used the neutral bar that lets you roll the mower. Depending on the transaxle there is a sleeve that connects the pump and the transaxle, when you pull the lever it slides the sleeve to one side to disconnect the tran and pump, when you release the lever the sleeve is supposed to reconnect the two, however is doesn't always mesh completely and therefore grinds some of it out when you put it in gear, eventually it will not move forward. Always rock the mower back and forth to insure the sleeve is connected before engaging the trans. Have a good one. Geo
02-18-10, 05:49 AM
Join Date: Feb 2010
Posts: 2
HYDRO-GEAR
1667768 314-0510
3128H4534
Thanks for the reply Geo... I do use the neutral bar to roll the mower, but not always, and am not sure at this moment if it's use was corresponding with the grinding noise or not, I will pay better attention in the future. I will also do the roll back and forth motion which I have never done before, sounds logical now that you mentioned it. Should I also be reaching under the transmission and pushing the lever manually back to the original position to help it reconnect? I noticed just now that the lever does not return to the far position and there is some play there.
02-18-10, 07:32 PM
Join Date: Jun 2006
Location: St. Louis
Posts: 2,365
Yours is not the same trans as the one I had, however the same problem may apply. Refer to the 2 pictures below to see what happens if it does have the sleeve. Have a good one. Geo
Sleeve Good:
Sleeve not so good: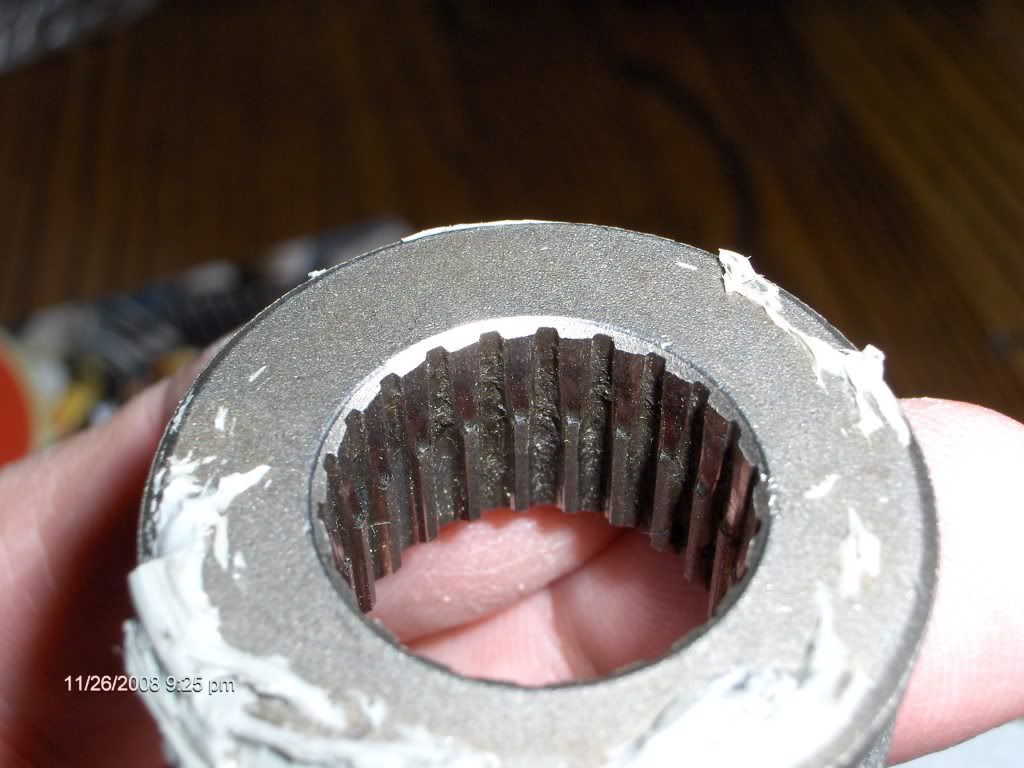 02-19-10, 11:00 AM
It sounds like the pump is leaking down and losing it's prime. You might have to add fluid to it. If I recall correctly, it takes 20w-50 synthetic oil. Given the fact that I've seen many of these fail, I'd be tempted to drain the old oil as much as possible and refill with new high quality synthetic oil. There is no drain, so you either have to remove the unit to drain it, or pick up an oil vacuum tank from lowes or tractor supply and suck out the old oil from the fill hole on top.
Posting Rules
You may not post new threads
You may not post replies
You may not post attachments
You may not edit your posts
---
HTML code is Off
---