Question about governor springs
02-18-10, 05:29 PM
Join Date: Dec 2009
Location: United States
Posts: 30
Question about governor springs
---
I have a small Murray pushmower and it was missing both springs on the carb. Could anyone help me find a diagram that shows the exact location of these springs? Model Type and Code below. I normally use partstree.com for diagrams and they are only shown at the top.

10H902-0216-E1
Sponsored Links
02-18-10, 06:26 PM
02-18-10, 07:27 PM
Join Date: Jun 2006
Location: St. Louis
Posts: 2,365
If what cheese posted is not clear enough, try the picture below. Have a good one. Geo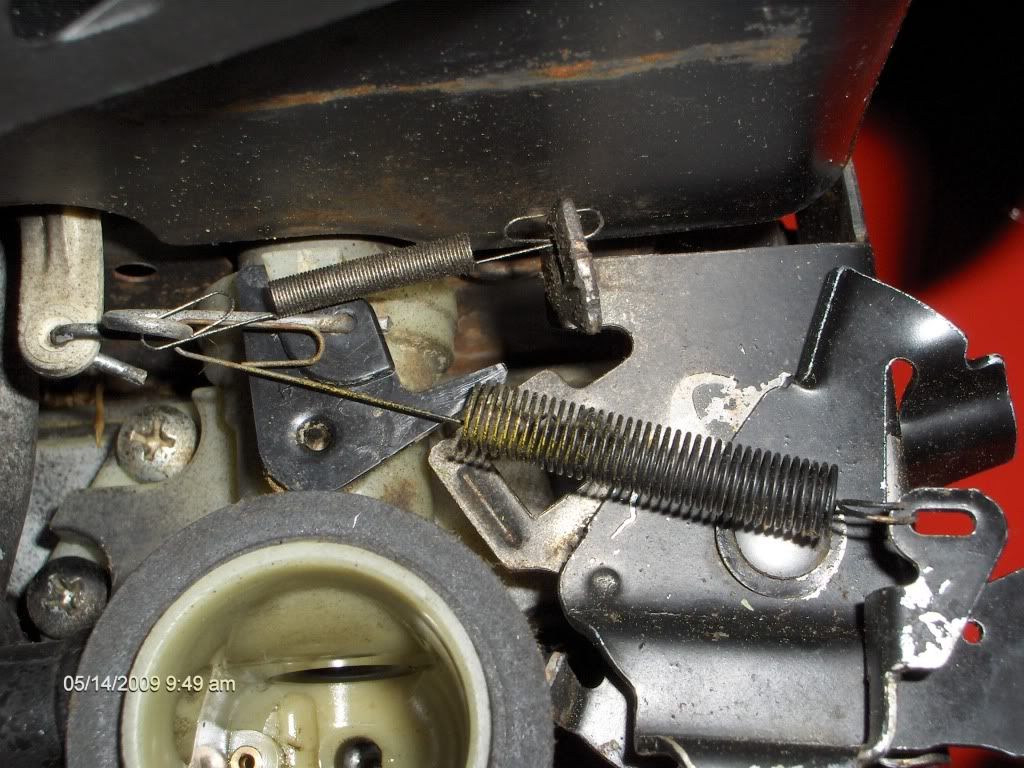 02-18-10, 08:10 PM
Join Date: Dec 2009
Location: United States
Posts: 30
Thanks guys both pictures help tremendously. Just one question though. Cheese, the picture you sent had a spring coming from around front and I could not tell in the second picture. What does that spring go to. Does it go to the brake?
02-19-10, 10:50 AM
There are only 2. I'm not sure what you're seeing in the pic I sent unless it's the throttle control cable. Yours may or may not have one.
02-19-10, 11:08 AM
Join Date: Dec 2009
Location: United States
Posts: 30
Thanks
---
I don't know what I was thinking. Yeah that is the throttle conrol. Thanks for the help.
Posting Rules
You may not post new threads
You may not post replies
You may not post attachments
You may not edit your posts
---
HTML code is Off
---