Craftsman 2 cycle carb has *security adjustments*
04-11-10, 03:09 PM
Join Date: Jan 2010
Location: USA)
Posts: 3
Upvotes: 0
Received 0 Upvotes on 0 Posts
Craftsman 2 cycle carb has *security adjustments*
---
Hi all:
I'm frustrated and i need some help from the experts. I have about an 8 year old Craftsman leaf blower model 358.797170 that has been slowly going out of tune. It has gotten to where it runs best and fastest with the choke closed about 1/3 to 1/2 way so it is starting to starve for fuel. I have changed plugs, cleaned air filter and soaked the fuel filter in paint gun cleaner over-night to no avail. I ran it very briefly without a fuel filter just to see if that changed how it ran, and no difference. I took carb apart and soaked it in paint gun cleaner and now it does not want to run at all. I have blown carb cleaner through it, gaskets and o-rings are still fine. Took needle valve apart, cleaned it and put back together to no avail either. The two "adjusting screws" for mixture and speed seen to be really meant to not be messed with! They are not capped, but appear to require a tool that would resemble the opposite of a torx bit. The two *screw* have very fine spline threads on the outside so you would need a tool that would go OVER these screws and have very fine splines on the inside. I am tempted to take my dremel tool and see if I can grind a slot in the ends that would accept a small screw driver. I really feel either the carb is toast or I have made it toast by working on it. Who has best prices for replacement carb and what do they call the tool needed to adjust these nasty screws recessed in a cavity and can't even grab with needle nose??
Many thanks from A diy'er who took something at least working to the realm of not running at all! Been there done that!
04-11-10, 03:22 PM
Join Date: May 2006
Location: Iowa!!!!!
Posts: 3,799
Just take the numbers off the carb and the make of the carb, go on line and get a complete kit for it. Stick that in it and if you need to adjust the mixture screws use the wire end of an electrical connector to turn them.

You'll be in business in no time.
04-11-10, 04:10 PM
Join Date: Jan 2010
Location: USA)
Posts: 3
Upvotes: 0
Received 0 Upvotes on 0 Posts
What kind of electrical connector? A wire nut, A crimp-on connector such as a spade conector? Please clarify. I did order all the parts. I likely could have bought a working used one by the time I added the gasket kit, fuel filter, etc.
Thanks Bill
---
Last edited by ewliedtke; 04-11-10 at

05:58 PM

.
04-11-10, 04:35 PM
Join Date: May 2006
Location: Iowa!!!!!
Posts: 3,799
The crimp on jobs. Just get the wire size that fits.
04-12-10, 03:42 PM
Go to ebay,and type in walbro carb tools.You can get the screw driver you need for the 2 cycle engines.They come in a set of five.Some point in time you will need all of them.

Jerry
04-12-10, 07:39 PM
Here is the one you need. Have a good one. Geo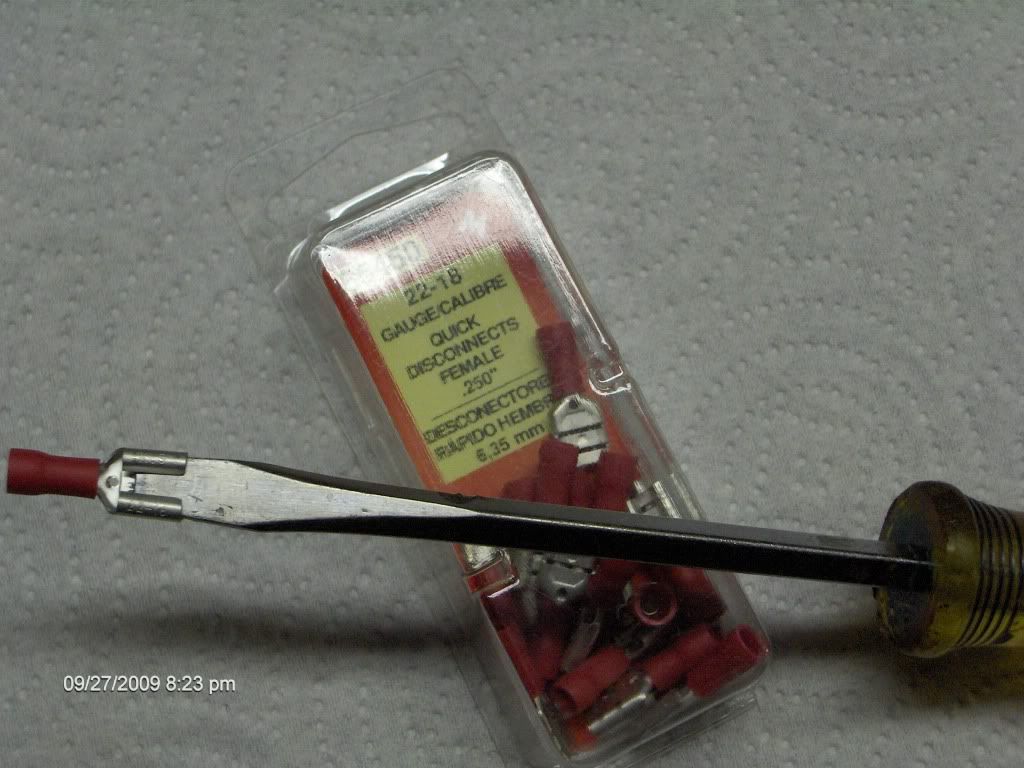 04-13-10, 01:44 AM
Hey thanks for posting the wire end idea, I will try the next time I need to adjust one of these. I did the dremel thing which worked great, but I have been a tool and die polisher in the past so I have some nice pointed burr mills to do this with and steady hands but still was not easy.
thanks again
04-13-10, 03:45 AM
Join Date: Jan 2010
Location: USA)
Posts: 3
Upvotes: 0
Received 0 Upvotes on 0 Posts
Great help all! I have a ton of the wire conecctors so may try that first. It is running really rich and I have not adjusted anything yet (after cleaning). Like an air passage in the carb itself is blocked. I also have the air filter off so that should help it run if anything. I have nothing to lose at this point. Walbro uses so weird-ass orings so I suppose it could be air getting in at carb base too.
04-13-10, 07:57 PM
04-30-14, 11:54 AM
Join Date: Apr 2014
Location: United States
Posts: 1
Upvotes: 0
Received 0 Upvotes on 0 Posts
Hi speed adjustment Craftsman blower
---
Blower was "bogging" down at full throttle. Looked on-line for the spline adjustment tool, $15 to $35 bucks. Tried the electrical wire connector. Worked Great! Half turn counterclockwise and it's running at full speed. Thanks for this simple and effective fix vs. "special tool".