Join Date: Apr 2009
Posts: 3
Stihl FS-36 Trimmer....No Spark
I have a 'no spark' issue. I am assuming it is the coil. I bought this trimmer new in 1992. It has been a work horse for me and I hate to put it out to pasture.
I don't know how to get the round thing (clutch?) with the blue springs off
the engine shaft so I can pull the cover back to expose the coil.
Any help would be appreciated. Below is a picture of what I need to remove.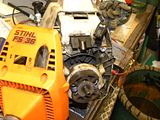 Sponsored Links