reverse on JD sx75
08-12-10, 07:48 PM
Join Date: Aug 2010
Location: usa
Posts: 2
Received 0 Votes on 0 Posts
reverse on JD sx75
---
reverse is slipping, sounds like gears not fully engaging---bought a used transaxle---it is doing the exact same thing----both feel fine and smooth when not on the mower--has anybody had this problem? linkage maybe?
Sponsored Links
08-13-10, 08:01 PM
Hello stso927,
Check all your shift linkage and bushings for any wear/slop, If everything appears to be normal try adjusting the shift linkage as below;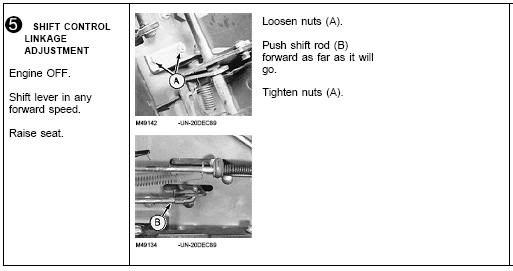 Good Luck
08-15-10, 07:29 AM
Join Date: Aug 2010
Location: usa
Posts: 2
Received 0 Votes on 0 Posts
thanks 31ytech, that worked great. i had just about given up and was ready to trash the mower. it is old but cuts so good i hated to do that.
Posting Rules
You may not post new threads
You may not post replies
You may not post attachments
You may not edit your posts
---
HTML code is Off
---