Join Date: Feb 2005
Posts: 1,561
Non-US
John Deere Gator
Hi All, I have a 6x4 J.D. Gator with the V-twin Kawasaki engine (FD620D-S11). The complaint is that a warning light in the dash comes on & off @ times. The problem I'm having is the windows over the lights are missing & all you see is the light bulbs. (Makes for easy changing)... The Gentleman bought this used & has no manual & the previous owner bought it used as well. It's the light on the Left that comes on & off.
Does anyone know what the left light is for???
I have oil pressure, The battery seems to charge @ 14.5 volts & It doesent seem to overheat (the cooling fan comes on & off normal)...
He says it's a 1989 model & he has a manual ordered but I hate to wait 2~3 weeks for it (it takes up a lot of real estate in my little shop
Thanks, Guys,, Roger
Sponsored Links
Join Date: Jun 2007
Posts: 1,764
KS
Join Date: Feb 2005
Posts: 1,561
Non-US
Join Date: Feb 2005
Posts: 1,561
Non-US
Thanks,Guys, Yes, the light does come on & off.. I have tested the battery & cleaned the terminals & Load tested it.. All seems good. The battery holds 10 volts after 15secs @ 150 amps.. I've removed & cleaned all the connections @ the engine & the voltage regulator & even installed an extra ground from the engine to the battery.. The light is very random & on from a few secs to a couple of mins @ times.

The battery seems to continue to charge when the light is on as my load tester still reads ~14.5 volts.. I have no service manual & I'm not too familliar with this system (no problem if it was a Golf Cart!!) The VIN of the unit is W006X4X008011.

Any one ran int one of these or have more ideas?? I hate to throw parts @ it without knowing what I'm into,,,

Thanks Again,, Roger
Join Date: Jun 2007
Posts: 1,764
KS
Might be a bit out there but I have seen it. Maybe a wiring for the lamp is around or near another wire or coil or sum such, creating inductance in the wire to the lamp...
As long as all else checks out, and no fluctuations in charging when the lamp lights, I would think it prolly aight, but still nice to have those indicators functional.
Join Date: Feb 2008
Posts: 1,263
FL
Roger,
I have the manual for this unit on CD but it's too large to upload to my PDF host site.....
The light is activated by the voltage regulator, There could still be a issue with the regulator even though your test shows it's putting out;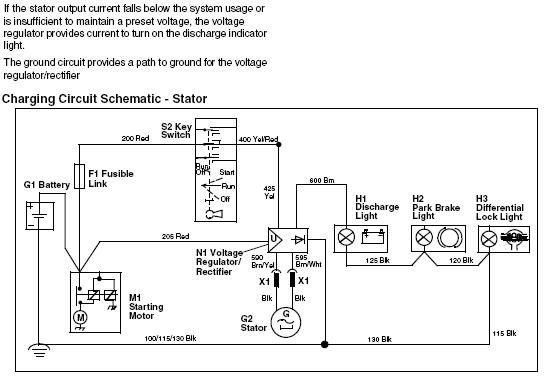 Deere doesn't show a ohms test for the regulator in their manual, But Kawi does and I have used it to test Deere regulators in the past without issues.
Hopefully this will show something.....
Good Luck
Join Date: Feb 2005
Posts: 1,561
Non-US
Thanks, All the Ohms testing showes the regulator is O.K. I've gone over the wiring several times, & I suspect the regulator still.. The Owner didn't want to spend the $140 bucks on a new one as it's an older unit & it is actually charging.. He brought me a Voltmeter to put in the dash so he can see the battery voltage,, It's not really fixed, but he's happy...

Thanks for all the help,, Roger