Kohler engine won't start..backfiring through muffler
10-01-10, 11:54 AM
Join Date: Sep 2008
Location: indiana
Posts: 83
Upvotes: 0
Received 0 Upvotes on 0 Posts
Kohler engine won't start..backfiring through muffler
---
Hi All,

I had a friend give me a Wheel Horse 310-8. He said it would no longer start and bought a new one. I put a new battery in it and it turns over good. It just backfires through the muffler..Very loudly. I took the head off thinking a valve was stuck or not working. Everything looked good there. So I pulled the flywheel off looking for a sheared key. Key is in good shape. Now I'm thinking it could be a valve not set correctly. Could that be it or is there anything else I need to look for?

Model number M10S
type 461521
code 2010210703

Thanks in advance,
Cory in Indiana
10-01-10, 06:10 PM
Join Date: May 2006
Location: Iowa!!!!!
Posts: 3,817
That would either be timing or valves. Sometimes when you get one flooded they'll do that, but starting off with a dry cylinder, it's back to the timing/valves. the latter would include cam/cam drive.
** Wish I had a friend who would give me a machine like that
.
10-01-10, 09:21 PM
Join Date: Jul 2001
Location: USA
Posts: 15,885
I'd start off with a brand new plug, especially if it has a NGK or denso plug in it.
10-02-10, 02:46 PM
Hello Cory,
Sounds like you could have a valve issue as marbobj mentioned, If a new plug as Mr Cheese mentioned doesn't help take a few minutes and check the valve clearances. As the valve faces and seats wear the clearance lessens in which a valve may not be closing fully now.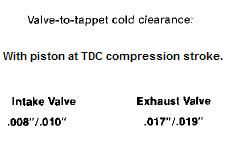 The tappet has two slots in it so it can be held with a wrench while the adjustment screw can be turned.
Good Luck
10-09-10, 01:20 AM
Join Date: Sep 2008
Location: indiana
Posts: 83
Upvotes: 0
Received 0 Upvotes on 0 Posts
Well...I messed up on the valve setting. I had the head off and brought the piston to TDC. Obvious to me now that it wasn't on the compression stroke. I know that because it bent the exhaust valve that I had adjusted when I went to start it. DOH! So I got a new valve for it today and need help with setting valves once again. Once I put the new valve in, how do I determine when piston is at TDC that it is on the compression stroke?

Thank you,
Cory
10-09-10, 06:02 AM
Join Date: May 2006
Location: Iowa!!!!!
Posts: 3,817
Both valves would have clearance at the tappet, Cory. You simply adjust that clearance with the piston at an exact TDC.

When valves are close at the tappets you would have compression at the spark plug hole, so just stick your thumb over the plug hole to feel compression. The other stroke at TDC is the exhaust stroke = absolutely no compression at the plug hole.

If the clearance is really messed up the exhaust stroke is still pretty evident since the exhaust tappet is being driven off a high point on the cam = a long way to a clearance on the tappet, if you can even get it.