Craftsman Chainsaw Fuel Line Routing
06-27-11, 03:50 PM
Craftsman Chainsaw Fuel Line Routing
---
Need some help putting in new fuel lines on my Craftsman chainsaw (358.352180). All the old lines have disintegrated to the point I can't tell what connection routes to where! I think this saw is identical (or at least very similar to) the Poulan 2150 saw.
This saw has a primer bulb with 2 nipples ... one marked TANK and the other marked CARB. There are 2 holes in the top of the fuel tank ... one large diameter (3/16" OD) and the other small diameter (9/64" OD).
Shown below is the Walbro WT-324 carburetor off the saw, with two connections marked "top" and "bottom" ... can someone confirm that the routing to these connections in the picture is correct?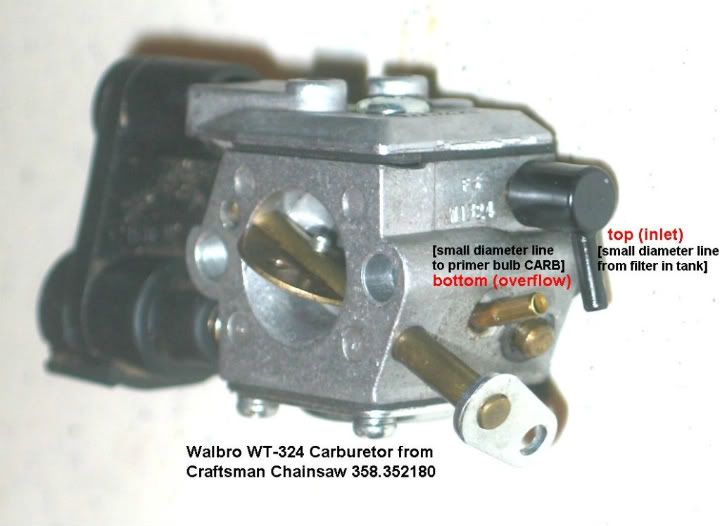 The 3rd line is the large diameter ... routed from the primer bulb to the large hole in the top of the tank.
Sponsored Links
06-27-11, 10:36 PM
The picture appears to be incorrect. The brass one is the inlet. The plastic one should go to the carb (suction) side of the primer. The tank fitting on the primer (pressure) should go to the return line to the tank. The fuel filter line should go to the inlet fitting on the carb (the brass one in that pic).
06-28-11, 04:08 PM
Thanks ... I corrected the routing, but now I seem to have another problem ... the primer bulb is collapsing when I press it, and not returning to its original size.
All the fuel lines are new, new filter (attached now to the line running to the black connector on the carb) and a new primer bulb.
I can get the saw started, but it only runs for a few seconds ... and then stalls out, like it's not getting any fuel. The primer bulb is showing partially filled with fuel, but it's still partially collapsed.
Here's a corrected picture of the carb: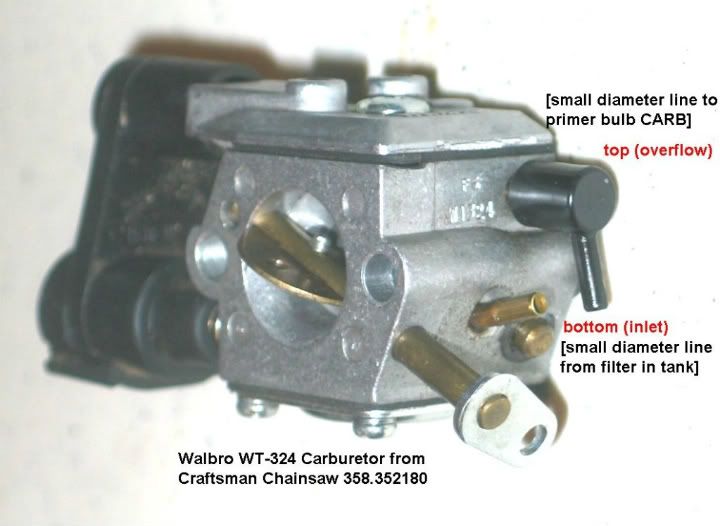 06-28-11, 09:28 PM
If the primer bulb stays in, I'm betting it's time for a kit in the carb.. If the fuel lines are rotton,, so are the parts inside the carb..Try a kit & let us know how it works.... Roger
08-02-11, 08:32 AM
Well ... put the "kit" in, and still no luck. Primer bulb is still collapsing, and not springing back ... consequently, I'm presuming that the carb is not getting fuel. It may be time to either get a new carb ... or a new chainsaw!
08-02-11, 08:21 PM
You'd probably be ahead of the game just putting a new carb on it, rather than fussing with that one. Sometimes they just aren't worth the trouble. Another saw might even be a better option, depending on what condition yours is in and what saw you are considering as a replacement.
Posting Rules
You may not post new threads
You may not post replies
You may not post attachments
You may not edit your posts
---
HTML code is Off
---