Need a discontinued Snapper/MTD snowthrower part
07-07-11, 02:26 PM
Need a discontinued Snapper/MTD snowthrower part
---
Hi --

I have a Snapper SE5203e, which is OEM by MTD 317-262-094.

Unfortunately, a plasic retainer bearing MTD PN 784-0357 f(rom parts list - auger section), and replacement pn 709615 seems to be "not available" from any place I can find online.

It's frustrating because it's just a stupid piece of plastic that broke and I lost the actual bearing. I can find the ball bearing in stock, just not the plastic retainer.

Does anyone know of a place that would have them in stock, or have any ideas, short of me trying to make one somehow?

Thanks for looking!

Merrill
07-07-11, 09:31 PM
I found it.
---
Using your favorite search engine, search for small engine parts.
I found the part you are hunting;
RETAINER:BRG.
784-0357
MTD/Yard Man/Troy bilt/White
Price: $6.92

If you still have trouble PM me I will help you out.
Have a good Day!
07-08-11, 06:09 AM
Thanks for the reply,

Already spent 2 hours online, and found lots of places online that list it

What I need is to find someone or somewhere that actually has one to buy.

If the place you found has them, could you kindly give me their contact information?

Merrill
07-08-11, 08:54 AM
Hi AJ and everyone else,
Just for s&g's, I looked at the actual snapper parts list and compared it to the MTD list. It appears most of the parts are the same, but of course, not the auger bearing setup.
Looks like the mtd uses 2 parts to hold the auger shaft - an actual ball bearing, plus a retainer. This is what I've been searching for.
The snapper breakdown only shows one part, a plastic bearing pn 709615.
From places I've looked, this part is also pn 7709615 and 7410975 - with the same problem - I cant find anybody who has one.
Here is a picture of mine...
The total outside diameter is 2 3/8. The ID of the hole is 3/4, which makes sense because the diameter of the auger shaft is 11/16. And it just slide into the side frame over the auger shaft, held with 2 bolts.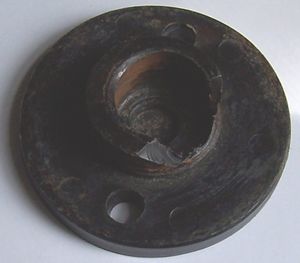 As you can see, its just a hunk of plastic that weighs hardly anything.
I just cant believe I cant find one anywhere.
Any help or sources is much appreciated...
Thanks, Merrill