Join Date: May 2010
Posts: 27
KS
Briggs 4HP Quattro - Pull Cord Rattle
I have a 4HP B&S Quattro Mower: Model 10A902; Type 2139-E1; Code 99042255

Mower runs good, starts easy, it does appear the pull cord has some extra extension on the line. Also, when you pull it there is this initial rattle that goes away of which is not coming from the motor.

I know I am ready to replace the Pull Cord but the rattle sounds like the recoil spring ???? What is the best type of cord to use for as a pull cord? I know the rope diameter is important but cotton or poly cotton or what?

I need some good instructions on how to replace the pull cord and possibly the recoil spring? Any other thoughts on that initial noise when I pull the rope? Photos and good instructions will work well. MOST OF ALL THANK YOU
Sponsored Links
Join Date: Jul 2001
Posts: 16,567
GA
If the noise is when you pull the rope as the engine is running, then it's normal. Just the dogs hitting the starter cup. If you need to replace the rope, pick up a replacement made for small engine starting at a hardware or auto parts store, or your lawnmower shop.
---
"Who is John Galt?" - Ayn Rand (Atlas Shrugged)

God bless!
Join Date: Jun 2006
Posts: 2,333
MO
To replace the rope:
Remove the metal engine shroud, usually 4 bolts, 2 in front, 2 in back and maybe screws in oil filler tube;
Now turn the starter assembly counter clockwise, the direction it would go if you were pulling on the rope until it stops, now back it off until the hole in the housing and pulley align,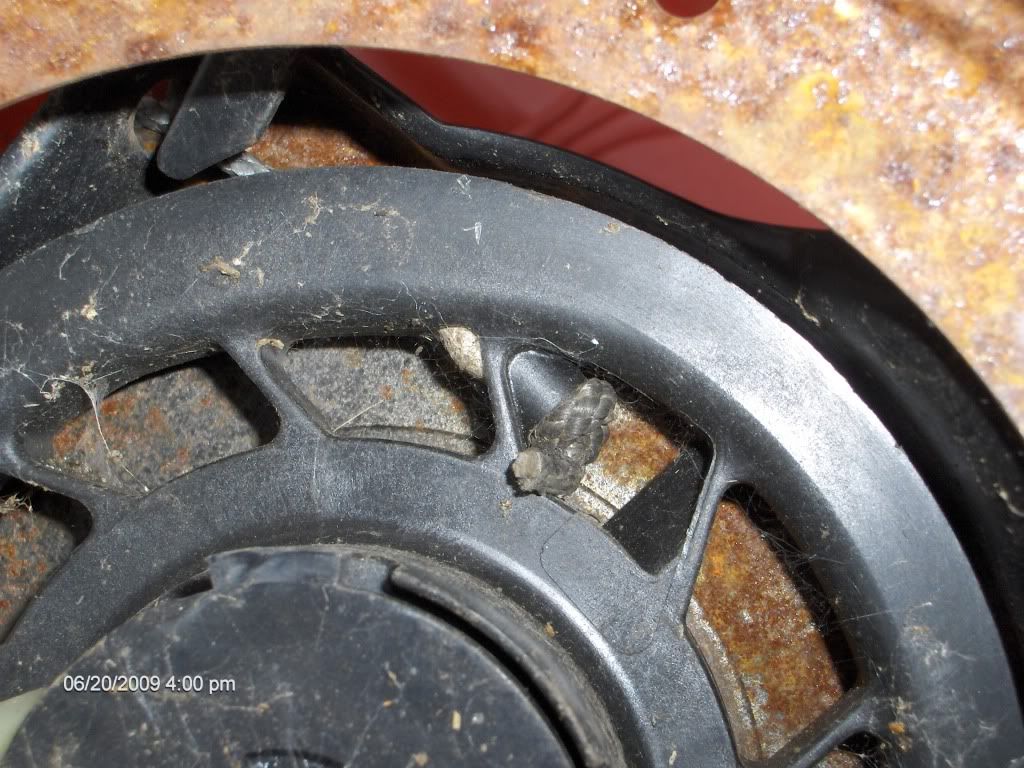 Feed the new rope through the holes, tie a knot and slowly release the pulley and the rope will rewind, reinstall everything and you are done. Have a good one. Geo
Join Date: May 2010
Posts: 27
KS
Thanks this is helpful. One other thing it appears(after having boys help cut the yard) they have did a extended jerk to the rope and it has alot of excess upon retracting back into the engine shroud. When I replace the rope with a new one I will check to see if it has fully retracted?? Your thoughts? If it has not what can I do to get the rope to fully retract. Keeping in mind i will check the length of the new rope. Is there any tips or tricks to establish what is the correct rope length when the old one appears to be over stretched. Again thanks for your help.
Join Date: Jun 2006
Posts: 2,333
MO
Posted By:

glassc

What about the retractor coil is there a way to take out some of the slack when you put the new rope on? Any demo of how to properly add the recoil tension on the pull rope??
Unless the spring is broke or has slipped from its retainer, recoil tension is covered in post #4. Have a good one. Geo