Kohler K91
08-07-11, 07:32 PM
Join Date: Jun 2002
Location: Northern Minnesota
Posts: 1,626
Kohler K91
---
Kohler 91 RT Serial # 622351 Spec # 31600A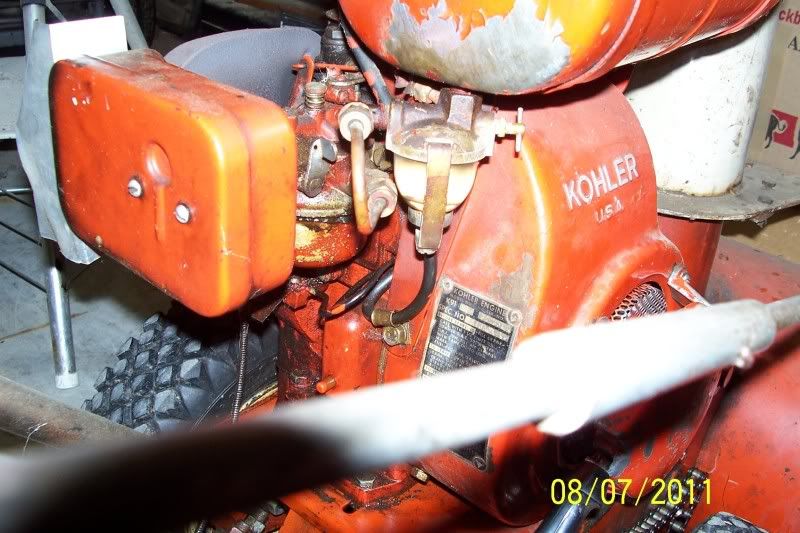 Poured new gas in the beast, opened the 'T' thing and the glass sediment bulb filled up but then leaked around the top of the bowl. After about 5 tries of this I removed the 'T' thing, needle valve? Let gas run for a few seconds then screwed it back in.
Not sure why that worked but the bowl doesn't leak anymore and it started after maybe 10 pulls and now runs like a top. Went out today and it fired on the first pull and started on the second.
Question: on the needle valve is a small gasket near the end, and it felt quite crumbly, dry. Could I just slip a small O-ring on there and the same on the top of the sediment bowl? I've found a carburetor kit but nothing about the bowl and needle valve.
Thanks
08-07-11, 08:52 PM
Join Date: Jul 2001
Location: USA
Posts: 15,883
I can't say for sure without looking at it, but usually o-rings don't work well where regular gaskets are normally used.
08-07-11, 09:09 PM
Join Date: Jun 2002
Location: Northern Minnesota
Posts: 1,626
On the bowl I think that is a gasket, it is pretty hard and brittle. On the needle valve it may have been a O-ring, not sure.