Sears Craftsman Tecumseh Snowblower will not start.... please Help
12-17-11, 05:20 PM
Join Date: Dec 2011
Location: United States
Posts: 4
Received 0 Votes on 0 Posts
Sears Craftsman Tecumseh Snowblower will not start.... please Help
---
I own a 2 year old Craftsman Tecumseh Snow King Snow Blower that won't start now. I will admit that after searching and reading many threads on this forum I have learned a lot in the last few days from all the experts here. I'm a big DIY'er but don't claim to be an expert, but you gotta learn somehow right. I'm actually a Doctor so I fix people.
Model Number: Sears Craftsman 247.887900
Engine # : LH318SA-156554
So this is what I've done so far. Replace spark plug but no luck. I then poured a cap full of gas into the spark plug hole and I noticed it would leak and spill out by the carburetor. Threw the new plug back in and tried to start it with the electrical starter but it would still not start. I however had a few shots of back fire episodes with a small blue flame through the exhaust that scared the living crap out of me. Lol. Assuming that I saw it misfiring I knew that my spark plug was working and igniting. Or am I wrong to assume that?
I've purchased a carb rebuild kit along with a new float bowl and replaced the gasket, float needle and pin and sprayed some carb cleaner in all the holes of the carb w/o removing the carburetor off the machine. However it still won't start. Now I was thinking to just replace the carburetor because I don't have too much time on my hands to sit there and do a rebuild but wanted to ask you guys first? Anything else I should do first?
Also would you buy a Original Tecumseh Carburetor for $75 or an Oregon one for $30? I rather get the cheaper one obviously.
Thanks
12-17-11, 09:19 PM
As a doctor you know there are the short and long exams and treatments depending upon payment plan, since you have DIYer I think you are covered. I think the engine was left with old gas in it and has developed blockage in the bowl nut(main jet), there are several styles and the tiny hole near the top threads is usually the problem, I clean it with the wire from a twist tie, refer to the pic below for reference only. Have a good one. Geo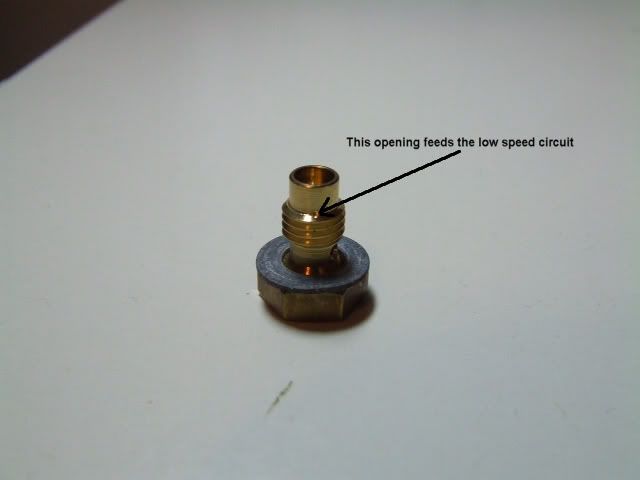 12-18-11, 04:51 PM
Join Date: Dec 2010
Location: Galivants Ferry SC USA
Posts: 18,183
Also would you buy a Original Tecumseh Carburetor for $75 or an Oregon one for $30? I rather get the cheaper one obviously.



If you have the money go for it. But why dont you try removing the carb and check the needle port. That could be clogged. You could spray some cleaner in there and see if it comes through the throat... There is a gasket that the needle rides on. Was that changed and that port checked?
Does the carb have fuel/air mixture adjustments? Were these altered?
Sounds like you have spark, but double check with a tester or
Simplest method to disconnect spark plug wire. Then, holding wire with insulated pliers, place end of wire near engine block. Have second person turn over engine (by pulling starter cord or turning key). Spark should jump from end of plug wire to block.


Also make sure the air filter is not clogged. Try to start with it removed.
Basically you need air, fuel, and spark. You need to determain what you are not getting.
Mike NJ
12-18-11, 09:46 PM
Due you have 100% fresh gas with a stablizer in the engine now or is there any left over gas from last year? My Toro for example would never start unless there was only fresh gas in the tank. It would not even try to start. I could crank and crank it to no avail. Drain and replace with fresh gas and it would start and run great the entire season.
12-19-11, 11:24 PM
Join Date: Dec 2011
Location: United States
Posts: 4
Received 0 Votes on 0 Posts
Yup Fresh gas in the tank. I'm starting to think its a carb problem. I just ordered a replacement carb online and gonna change the fuel line Nd throw in a shut off valve while I'm at it. Hopefully that will solve my problem.
12-15-12, 03:07 PM
When you put in the new carb, valve and fuel line. Add a small in line fuel filter. A small plastic housing with a fine scene inside. This is a generic part that is cheap and saves future problems from dirt. You can't believe how much dirt and debris get into the fuel even if you are careful. I have seen it many times. Even in snow blowers.
12-18-12, 06:36 PM
quick start
---
What i do to prove the carb is spray a little quick start in the choke end of the carb, full choke it and pull. If it runs for one second, youi got a spark and the carb needs to be pulled off and cleaned thouroughly.

If it doesnt start, pull the plug out and put it back on the magneto wire, gorund the spark end to the engine and pull the recoil. If you see a spark, you are good. If not, magneto on the flywheel needs a repalcement.

Most likely a carb problem. Worked last year bot not this year. Try the quick start. Vroom, clean the carb thouroughly, vroom vroom.

Have a good one.