Join Date: Jan 2012
Posts: 37
MN
Can't figure out carb leak
So all of a sudden this fall i came home from work to a gas puddle on the garage floor, here fuel was leaking out of my snowblower carb. I have a 8 hp Tecumseh snow king. I went ahead and ordered a carb kit and finally got around to installing it today as we are finally suppose to get measureable snow this week. Got the new kit all installed and put it back on the blower. Started right up, let it run for a bit and then after sitting for a bit, it started leaking again. I pulled the carb off again and made sure the seat was fully seated and it appears to be. The only other change is that the intake gasket ripped when pullig the carb so I used a tube of gasket material. I feel like it must be the float, however when I test it in water it does float, however not in a level way, the end with the hinge doesn't float as high as the rest. Not sure if that's normal, also I read that you can't truly test a float in water cause it's too "thick" to detect a pinhole?!?! When I've shook the float I also don't hear any sloshing....nothing major at least. What am I missing here, I'm pulling my hair out. the only other thing I can think of is the bowl gasket but that was also replaced with the kit.Leak does appear to be coming from higher up on the bowl as most of the sides of the bowl show gas residue during the leak.

Please help
Sponsored Links
Join Date: Nov 2005
Posts: 467
CO
If the bowl vent is pluged it will leak or if the seat is installed upside down it will leak or if the wire clip on the needle does not point to the choke side of the carb it will leak. One side of the seat has a ring on it that must be installed into the carb.
Picture of carb bowl vent: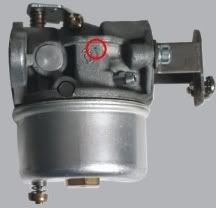 Picture of clip: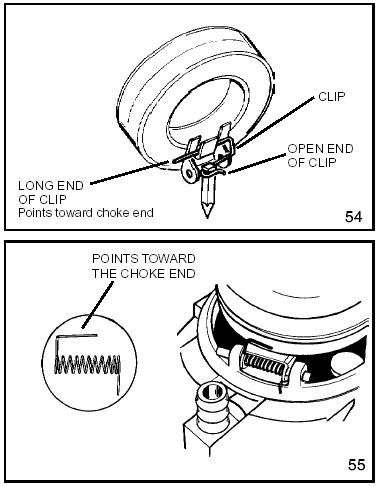 You most likely dont have the spring that goes on the float shaft
Picture of needle & seat:
AJ
Join Date: Jan 2012
Posts: 37
MN
AJ,
thanks for the valuable information. I will pretty sure I installed the seat and neddle clip correct, but will double check. My question is if I installed something wrong why did it leak before the kit? And why did it go so many months without leaking, why all of a sudden?

Just curious, thanks again!
Join Date: Nov 2006
Posts: 367
NJ
Make sure the bowl vent is open. I have also had leakers after a rebuild only to realize the bowl vent was clogged.
Join Date: Jan 2012
Posts: 37
MN
Join Date: Nov 2005
Posts: 467
CO
I just reread your first post there must be no sloshing when you shake the float. If there is any the float has fuel in it and it will leak. You could see the twist tie if you pulled the welsh plug that is inside the float chamber. You should be able to shoot some carb cleaner through the hole and see it come out the slot at that welsh plug. or shoot through the slot and out the hole. I would add an in line fuel shut off valve if there isn't one under the fuel tank.

AJ
Join Date: Jan 2011
Posts: 87
CANADA
Check the gas line coming into the caerburetor. Any leak on that line will run down the line to the carb. You may think the leak is around the bowl but in actuality it is coming either from the connection to the carb, or further up the line and running down to where it connects.

If you have a leak, you sohuld be able to dry the outsode of the carb and watch to see where this leak is coming from. Is it at the top of the carb bowl? Dry the fuel line as well and watch for the gas.

Just a thought!